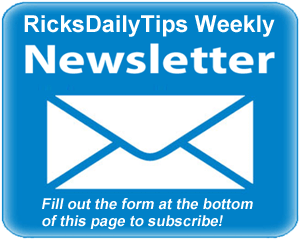 Hello again everyone. I hope you all had a great week!
I receive hundreds of tech questions each week, and many of them are about Facebook, the world's most popular social networking site.
I could write a book about Facebook's many idiosyncrasies and the various ways to deal with them, but that's for another day.
In the meantime, I thought I'd simply take a few minutes to share a few of my most popular (as determined by reader response) Facebook tips in this week's newsletter: 
1 – I strongly recommend that you always "Like" your own Facebook posts. I know that might sound a little odd, but there are some pretty compelling reasons for doing so. Hint: It isn't a "vanity" thing.
2 – Hackers are constantly seeking out Facebook accounts that they can hack into in order to create mischief and scam other users out of their hard-earned money. Don't let it happen to you! This tip explains how to prevent your Facebook account from getting hacked.
3 – Do you send photos to other Facebook users (and/or receive them) in chat conversations or instant messages? If so, there's an easy way to display all of the photos contained in a conversation thread at once. Read this tip and you'll never have to scroll back through your messages to find a photo again!
4 – Do you use your mouse to scroll through your Facebook newsfeed? Well, there's a much better way to move from post to post. Read this tip to find out why (and how).
5 – Did you know that your privacy is always at risk on Facebook, regardless of how well you have "locked down" your privacy settings? Well, it's true, and this tip explains why.
6 – One of the questions I receive most often is why my posts have stopped showing up in a friend's newsfeed. Well, it happens to all of us, and this tip explains why (and how you can easily get them to start showing up in your newsfeed again).
7 – Do you have a loved one who has passed on and left behind an active Facebook account? If so, I recommend that you ask Facebook to memorialize their account to prevent hackers from taking it over and malicious individuals from making inappropriate posts and comments that your deceased loved one can obviously no longer remove or respond to.
Well, that's it for this week. If you have a tech question that you would like for me to answer, click here and send it in!
Special note: As a subscriber to the RicksDailyTips Tech Newsletter you are automatically entered to win one of my monthly tech gear giveaways. Monthly winners are announced in the first newsletter of the following month.
December's winner will receive a handy Corsair Flash Voyager Slider 128GB USB 3.0 Flash Drive.
Not a subscriber to my newsletter? Fill out the short subscription form below to receive my weekly newsletter by email and be automatically entered for my monthly Tech Gear Giveaways!
I hope you found this edition of the newsletter useful and interesting. If so, I hope you'll consider passing it on to any of your friends and associates who might enjoy reading it as well.
Thanks a bunch,
Rick Rouse
Website: www.RicksDailyTips.com
Follow me on Facebook: www.Facebook.com/RicksDailyTips
Follow me on Twitter: www.Twitter.com/RicksDailyTips