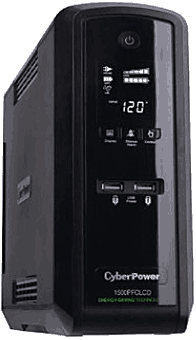 If your home or office is in an area that's prone to frequent power outages or receives fluctuating power levels from the main grid, you are surely aware of the need for a high-quality Battery Backup System or UPS.
But you might not be aware of the need for many modern PCs to have a clean source of power that consists of true sine waves instead of the clipped square waves produced by most cheap battery backup units.
If your computer has a modern Active PFC power supply, it's essential to feed it sine waves just like the electricity that's delivered by the power grid.
The CyberPower CP1500PFCLCD PFC Sinewave UPS 1500VA 900W will keep your expensive electronic gear running safely during brief power outages and automatically shut your system down during longer outages when you are away from the computer and unable to do it yourself.  [Read more…]