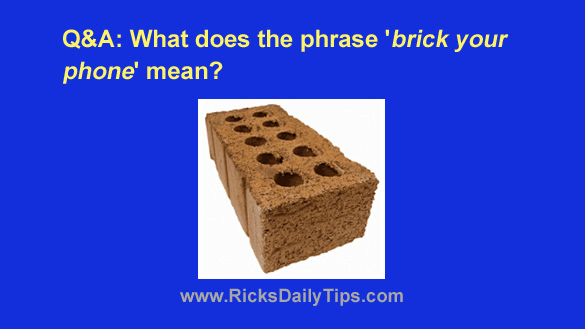 Question from Betty:  I read an article suggesting that everyone needs to keep the software on their smart phones up to date.
It also said to be careful not to 'brick your phone' while you're updating it. Can you tell me what they mean by that? Thanks.
Rick's answer: Betty, most modern electronic devices have computer chips inside that make the devices do whatever it is that they were designed to do.
And just like a regular computer, the CPU in those devices must have some computer code to execute in order to complete those tasks.
This body of code is called "firmware", and it's stored in non-volatile flash memory chips. From time to time updates to that firmware code are released in order to add new features and/or fix bugs in the code.
The process of updating the firmware on a device basically replaces the existing code with a new version. The problem is if something goes wrong during the firmware update your phone can become completely unresponsive – or about as useful as brick.
Hence, 'bricking' your phone essentially means it won't work anymore.
A bricked phone can be fixed, but you'll need to send it back to the manufacturer or to an authorized repair center, and the service is not always covered under the phone's warranty.
And by the way, ANY device that includes firmware can be "bricked" by installing a buggy update or some other digital misfortune. Take care when updating your devices!
Bonus tip: Did you know that your Android phone or tablet can become infected with viruses just like your laptop or desktop computer?
Well, it can, and it's happening a lot these days.
That's why I recommend that you install AVG Antivirus for Android on all of your Android devices. This fantastic app offers effective protection against Android viruses, and it's free!
---