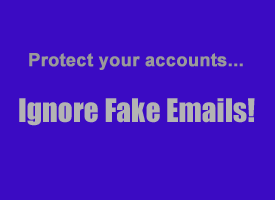 Question from Sue:  Yesterday I started getting emails from several websites that I mostly infrequently use or don't use at all, such as Microsoft, Walmart, and Instagram.
But now I've received two more emails from two websites (AirBnB and eBay) that I DO use.
These emails were all in regard to resetting my password – either the password was already changed or a request to change it.
One email stated the request came from Malaysia and one from Russia, both of course I'm not visiting.
The requests definitely appear to be from the legitimate website – no misspelled words, correct internet and physical addresses, privacy statements, etc.
I changed the passwords on all the websites and updated and ran my Avast antivirus. But now I'm getting really concerned that "they" will figure out my passwords for more important websites such as banking, credit cards, etc.
I assume that I went on a bad website or something else. What happened and how can I fix it (preferably without changing each password separately as I'm pretty lazy) and prevent it from happening again?
Rick's answer:  [Read more…]