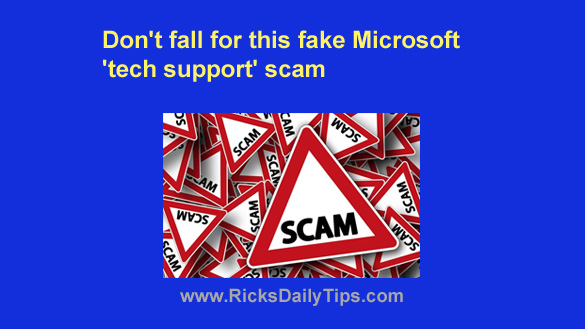 There's an old scam that keeps popping up from time to time, and I'm hearing lots of reports that it's spreading like wildfire at the moment.
A while back I wrote a post explaining that neither Microsoft nor Apple will call you to let you know that your machine has a virus.
And they won't, so if you get a call like that from out of the blue you should know right off the bat that the call is a scam. Just hang up on them.
But now there's a quickly spreading variation of that scam that's costing a lot of folks a lot of money and causing tons of grief to boot.
Instead of calling potential victims on the phone, these scammers place malicious code on websites and/or distribute malware that causes your PC to pop up a box with a fake warning.
The actual warning that's displayed varies a bit, but it usually states that your PC is either infected with a nasty virus or it has outdated drivers that can cause serious problems.
They then go on to say that you'll need to call "Microsoft Support" for assistance.
Once you call the number provided you'll be told that the "Microsoft tech" will need remote access to your PC in order to remove the viruses or update the outdated drivers. And by the way, you'll need to pay "Microsoft" a hefty fee for the service.
Truth be told, this entire scenario is a scam from start to finish.
If you call the phone number listed in the popup message you won't be calling Microsoft all all. You'll be calling a scammer.
If you go along and allow the scammer to remotely access your PC, he won't remove any viruses or update any outdated drivers.
Instead, he'll plant malware on your machine and mine your PC's hard drive for personal and financial information he can use to steal your money and/or your identity.
Likewise, if you give the scammer your bank account or credit card info…Well, you can figure the rest out for yourself.
This is what you should do if you receive a pop-up message like the one I described above:
1 – Shut down your PC. (Don't click on anything, especially any links that might appear in the fraudulent notice.)
2 – Turn the PC back on and let it boot back up into Windows.
3 – Follow the steps in this post to perform a thorough series of virus and malware scans on the machine.
That should take care of the problem for you.
Note: In some of these scams the message will claim to be from your computer manufacturer instead of Microsoft. And in many of those cases it won't even be from the actual maker of your PC (i.e. you might receive a message from "Dell" about your HP computer).
Just remember that this is a scam regardless of who claims to have sent it!
Bottom line: Never give a stranger remote access to your computer unless you know for a fact that the person is really who they say they are AND they have a legitimate reason for needing the remote access.
And don't give them your bank account or credit card info either!
---