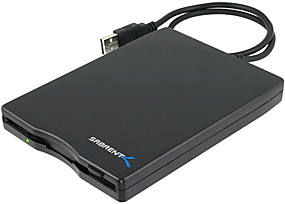 Question from Deanna T.:  Hi Rick. I have a question for you.
Is it possible to install a 3.5″, 1.44MB floppy disk drive in a Dell Inspiron 660s computer?
The reason I'm asking is because the trusty 11 year old PC I use in my fabric shop has finally bitten the dust.
I've replaced it with a refurbished Dell 660s that works great, but all of my data files are on 1.44MB floppy disks.
I found out today that the company that wrote the software I use has a new version available that'll work on my new computer, but I'll need to retrieve the data files from the floppies.
I was hoping I could just buy a 3.5″ floppy drive and install it in the computer.
Is that possible? Can you even still buy a floppy disk drive? As you can tell, I'm a little on the dumb side when it comes to computers.
Rick's answer:   [Read more…]