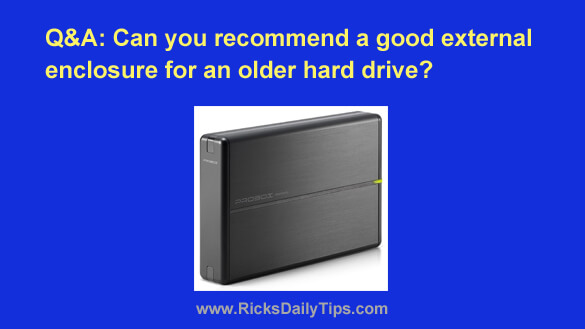 Note: The links in this post are affiliate links.
Like my tips? Click here to sign up for my free Daily Tech Tips Newsletter and you'll never miss one!
---
Question from Alvin T.:  My mom's (really) old desktop computer won't come on so she bought herself a new laptop to replace it.
Now she wants me to get the files off her old hard drive for her, but I don't have a desktop PC to install it in.
I read your post about converting a spare internal hard drive into an external USB hard drive, and it's very informative.
But when I click the link to see the external drive enclosures there are so many that I don't know which one I need to buy for her hard drive (160GB Seagate Barracuda ST3160023AS).
Can you recommend a good (but cheap) external USB enclosure that will work with that drive?
Rick's answer:   [Read more…]