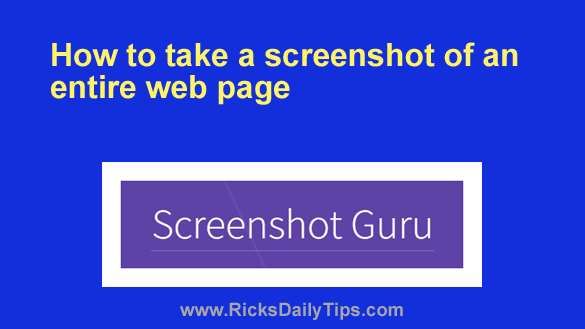 Have you ever needed to capture a screen shot of an entire web page only to be frustrated because the entire page wouldn't fit on the screen?
I sure have, and it's pretty frustrating indeed when you have to capture the page in segments and try to stitch them together later.
Well, there's a great web-based tool that'll quickly create a screenshot of an entire web page, regardless of its length or width and allow you to save the resulting screenshot image as a PNG file. 
This awesome online tool is called Screenshot Guru, and it works like a charm! Here's how to use it to create a full-page screenshot of virtually any web page:
1 – Highlight the URL of the page you want to take a screenshot of and copy it to the Clipboard.
2 – Click here to visit the Screenshot Guru website.
3 – Paste the URL you just copied into the text box and check the box beside I'm not a robot.
4 – Click the Screen Capture button. The tool will now do a bit of work behind the scenes and create your screenshot.
5 – Right-click on the screenshot image and save it to the Desktop or the folder of your choice.
That's all there is to it. You now have a full-length screenshot of the target page.
I hope you find this awesome tool as useful as I do!
---