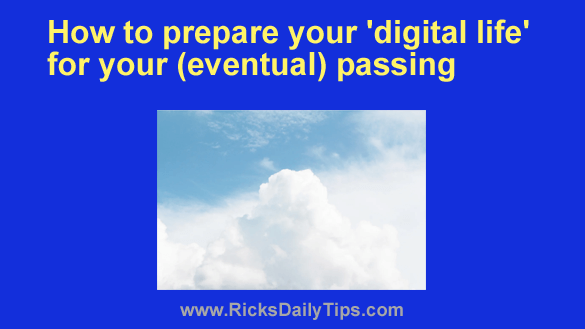 If you're like most folks you probably don't spend a lot of time thinking about what will happen after you pass away.
After all, that isn't the most pleasant of topics.
But taking a few minutes to prepare now can make things a lot easier on your loved ones when that sad day finally arrives.
And arrive it will since no one lives forever.
Chances are you've already made a few preparations such a writing a will and purchasing life insurance, but it's also important to prepare your "digital life" for that fateful day. 
Think about this for a moment…
After you pass away, will the executor of your will (or your heirs) be able to properly manage all of your open online accounts in accordance with your wishes?
Will they even know which accounts you have, and how many?
Most people have one or more bank accounts, insurance policies, investment funds and such.
While your executor will probably be able to find most of those accounts simply by going through your paperwork, what about accounts that only exist online, with no paper trail to follow?
And what about your email account, which is the virtual back door to most of your other accounts?
And of course there are your various social media accounts…
You definitely don't want to simply abandon any of your accounts when you pass on because hackers and scammers would then be able to hijack them and cause all kinds of problems for your heirs and descendants.
This is what I recommend:
1 – Make a list of all of your online accounts, regardless of how insignificant some of those accounts might seem to be.
Record the URL to each account's login screen along with the the email address and phone number that's associated with each account. And of course record the usernames and passwords as well.
After the list is complete, store it in a fireproof and waterproof lock box or some other safe place.
Make sure at least two members of your family that you trust completely know about the list and where to find it.
Why at least two? Because there's always a chance the person you choose could pass away prematurely, or in a worst-case scenario, at the same time as you.
2 – Sign into every one of your online accounts and check the "Security" section of the site to see if there are any tools available for managing the disposal of the account after you pass away.
For example, Facebook has multiple ways for you to ensure that your Facebook account is handled according to your wishes upon your passing, including choosing a legacy contact.
Bottom line…
I know your own passing isn't the most pleasant thing to think about, but it's very important to prepare for it nonetheless.
Take a few moments to put yourself into the shoes of the people who will be tasked with managing your affairs after you pass on…
What will they need to know? Which accounts will they need to deal with? How do you want them to do it?
Make sure you include every aspect your "digital life" to ensure that everything can be easily (and quickly) handled in accordance with your wishes after you've "logged out" down here for the final time.
---