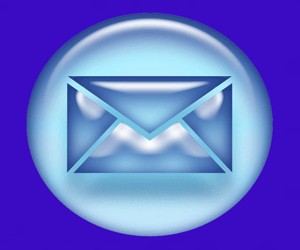 Have you ever stopped to consider just how important your email account is?
Like most people you probably use email to send messages to friends and family members and receive updates from the various services you've signed up for.
But did you know that your email account is one of the most import online accounts you'll ever use?
In fact, after your online banking account and your PayPal account, your email account is probably THE most important account you have. 
Why do I say that? Because your email account is the master key to most of your other important accounts – including PayPal and your online banking account!
Think about it for a moment…
What happens when you forget the password to one of your accounts? Chances are you'll be given a link to click that will send a password reset email to the email address that's registered with that account.
Click the link and wait for the email to arrive, then click the confirmation link in the email to access the password reset page. We've all done it hundreds of times.
Well guess what? If you can click a link in an email to reset the password to an important account, so can a hacker.
That's why it's absolutely critical that you take the time to lock your email account down tight to prevent hackers from breaking into it and using your email address to reset the password to your online banking account, PayPal or your social media accounts.
Luckily, it really isn't that hard to lock most any email account down tight. Just follow the steps below:
1 – Change your email password to a phrase that's easy to remember, but hard to guess or break with a password-guessing tool.
2 – Read this post to learn how to recognize and avoid phishing emails.
The fact is most compromised email accounts become compromised after the account owner falls victim to a phishing attempt. Don't let it happen to you!
3 – Enable Two-Factor Authentication (2FA) on your email account.
One you've enabled Two-Factor Authentication on your email account a hacker won't be able to log into that account unless he/she has access to your mobile phone – even if they know your password!
Luckily, it's fairly easy to enable 2FA on most web-based email services.
Simply search Google for the name of your email provider plus the phrase enable two factor authentication. The search results should take you right to a page with instructions for enabling 2FA on your email account.
4 – If you use AOL Mail or Yahoo Mail I strongly recommend that you switch to either Gmail or Outlook.com
Why do I recommend that you ditch AOL or Yahoo? Because they can't seem to stop getting hacked AND their new Terms Of Service (TOS) absolutely trashes your privacy.
Bottom line: If a hacker manages to gain access to your email account he/she will be able to reset the passwords to many (and possibly all) of your other online accounts and break into them at will.
What's more, the hacker might be able to change your email account's password which would basically lock you out your own email account!
And that would be bad. Trust me on that.
Bottom line: Don't let your important online accounts get hacked because of lax security on your email account. Lock your email account down tight by following the steps listed above right away!
Bonus tip #2: Want to make sure you never miss one of my tips? It's easy! Just…
Click here to sign up for my free Rick's Daily Tips Email Newsletter!
---
Would you like to ask Rick a tech question? If so, click here and send it in!
If you found this post useful, would you mind helping me out by sharing it? Just click one of the handy social media sharing buttons below. Thanks a bunch!