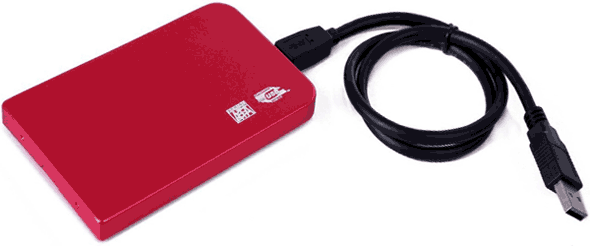 Hard drives are dirt cheap these days when compared to the prices from times past, especially when you consider the massive sizes of the drives currently on the market.
That's why many people are choosing to upgrade the hard drives on their existing computers instead of buying an entire new PC.
If you're one of those who have taken the plunge and upgraded the hard drive in your computer, you might be wondering what you can do with your old drive. 
Well, you have several options, but my favorite is converting that old drive into an external USB hard drive. All you need to do is purchase an external USB hard drive enclosure and plug your drive into it. It really is that simple!
External hard drive enclosures used to be a little on the expensive side, but no more. In fact, you can find them on Amazon for less than $10 (click here
to check out their current selection). While your new external hard drive won't be quite as spacious as one you could buy off the shelf today, it will likely be plenty big enough to store a backup set or two.
Besides, most of us can always use an extra external drive, right? And at less than 10 bucks it's quite a bargain! Here are a couple of things to consider should you decide to convert your old internal hard drive into an external USB hard drive:
1 – If your PC has USB 3.0 ports available, you should strongly consider purchasing an enclosure that supports USB 3.0. The extra cost will be minimal but the extra data transfer speed will be phenomenal. If your computer doesn't have USB 3.0 ports, you can easily add them.
2 – After installing the drive in the enclosure and plugging it into your PC, you'll probably want to re-format it. Simply right-click on the the drive in Windows Explorer / File Explorer and click Format.
Important! Make sure that your new drive and its Windows installation is working before you format the old drive!
 That's all there is to it! Good luck!
Click here to check out the current selection of External USB Hard Drive Enclosures at Amazon.
Note: The links in this post are affiliate links.
---
Like this post? If so, I invite you to share it on social media. Just click one the handy buttons below.