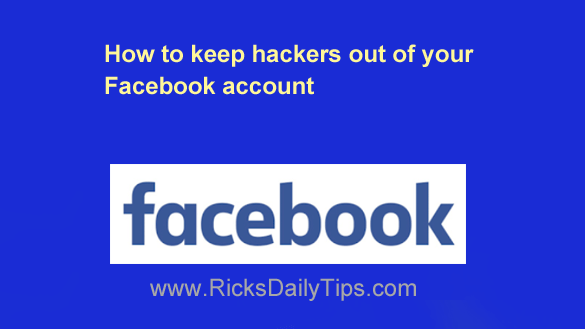 A while back I wrote a post discussing several things you can do to protect your Facebook account from hackers.
That post explains how hackers will try to use phishing attempts and various social engineering techniques to trick you into handing over your Facebook password or the personal info they can use to guess it. 
If you haven't yet read that post I suggest that you take a few moments to read it it after you've finished making the changes recommended below.
This post is a follow-up post that explains how to protect your Facebook account from getting hacked from a slightly more technical perspective.
Facebook offers a number of tools that can help keep your password and account safe and secure. Here are a few tips for using them:
First, choose a password that is difficult to guess yet easy to remember. This post explains how to do that.
Next, since your email address is used to log into your Facebook account I recommend that you change your privacy settings to hide your email address from your profile. Just follow the steps below for the device you're using…
If you use Facebook in a web browser on a laptop or desktop computer:
1 – Log in to your Facebook account and visit your About page.
2 – In the left-hand column, click Contact and Basic Info.
3 – Click on the little lock icon in the Email field and select Only Me.
4 – Next, click the down arrow on the far right and select Hidden from Timeline.
5 – Repeat steps 3 and 4 for any other email addresses that you see listed there.
If you use the Facebook app on a mobile device:
1 – Log in to your Facebook account and visit your About page.
2 – Scroll down to the "Contact Info" section and tap Edit.
3 – Tap Manage Contact Info.
4 – Change the privacy level of every email address that's listed to Only Me.
That's all there is to hiding your email address. Now we'll discuss some other things you can do to lock down the security of your Facebook account even more…
Another way hackers can make their way into your Facebook account is via a rogue app. That's why I recommend disabling any and all apps that you don't use (or even worse, don't recognize). Click here for simple instructions.
And finally, Facebook now allows you to place an (almost) fool-proof "lock" on your account's login page by enabling Two-Factor Authentication on it. I recommend that you click here and do that right now.
After you've enabled Two-Factor Authentication, any time you (or someone else) tries to log in to your Facebook account from an unknown device/browser, you'll receive a text message on your cell phone with a security code that you must enter before Facebook will allow you to log in.
This means it will be impossible for someone else to log in to your Facebook account from a device that you do not own unless they also have physical access to your cell phone.
Well, that's about all there is to locking down your Facebook account to prevent hackers from taking control of it.
Bottom line: Your Facebook account should now be about as safe from hackers as it could possibly be. I wish you the best of luck!
Bonus tip: Now that you have your account locked down tight on a technical level, I recommend that you read this post for tips on protecting yourself and your account from social engineering (i.e. human to human) style attacks.
---