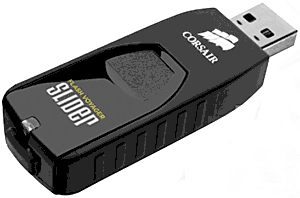 With USB Flash Drives getting bigger and faster all the time, USB 3.0 flash drives in the 16GB-64GB range are quite common now, and inexpensive as well.
Although you can purchase flash drives that rival the storage space of a small hard drive these days, the sweet spot in price vs. capacity and performance seems to be with 128GB models.
I recently received a Corsair Flash Voyager Slider X1 128GB USB 3.0 Flash Drive (#ad) for review, and as with most Corsair products I was quite impressed with it overall.

After removing the drive from the packaging, I plugged it into machines running Windows 10, Windows 8.1, Windows 7 and Ubuntu Linux, and all four computers recognized the drive at the correct capacity right away.
The machines running Windows 7 and Ubuntu have USB 2.0 ports, but the drive was still quite speedy while transferring several large files back and forth. The machines running Windows 10 and Windows 8.1 have USB 3.0 ports, and the data transfer speed between this drive and those PCs was lightning fast.
Corsair is known for building rugged, high quality products, and the Flash Voyager Slider is no exception. Its capless design makes it easy to protect the business end of the drive while carrying it around in your pocket. And the ergonomic shape makes it easy to plug in and remove with minimum effort.
Bottom line: If you need a super-fast, high capacity USB flash drive that won't cost you a small fortune, this little gem from the folks at Corsair is well worth a serious look.
Click here (#ad) to read more about the Corsair Flash Voyager Slider X1 128GB USB 3.0 Flash Drive at Amazon, including dozens of overwhelmingly positive user reviews.
---
Like this post? If so, I invite you to share it on social media. Just click one the handy buttons below.