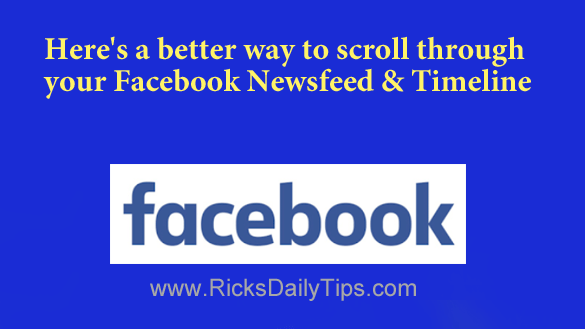 Click here to sign up for my free Rick's Tech Tips Newsletter!
---
Your mouse wheel makes it easy to scroll down most any page web, but if you spend a lot of time on Facebook there's a better way…
Use your keyboard!
All you have do is press the Spacebar to scroll down a page your Newsfeed.
Pressing the Spacebar will instantly display the next screenful of posts without having to bother with your mouse.
To give it a try, simply head over to your Facebook Newsfeed or your Timeline page and start pressing the Spacebar. You just might be pleasantly surprised.
And now for one last tip: You can use your keyboard to scroll up as well – just press Shift+Spacebar!
Update: Facebook has now rolled this feature out to Groups as well.
That means you can now also scroll up and down through any of the groups you're in using the Spacebar and Shift+Spacebar respectively.
Bonus tip: This post explains how to keep your Facebook account safe from hackers.
---
Cick here to ask me a tech question.