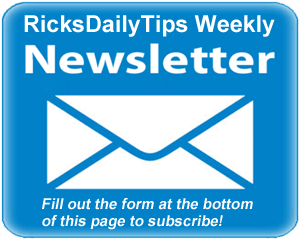 Hello again everyone. I hope you all had a great week!
Well, it's been 6 months now since Microsoft released Windows 10, and I've been using it and putting it through its paces since the day it was released.
I also helped test and evaluate the Technical Preview version of Windows 10 via the Windows Insider Program for several months before Windows 10's July 2015 official release.
In total, I've been using Windows 10 in its various iterations for about a year now, and during that time I developed a sincere appreciation for this latest version of Microsoft's flagship operating system. 
All thing considered, I honestly believe Windows 10 is the best version of Windows ever. Yes, there are some serious privacy concerns with the default Windows 10 installation, but you can easily mitigate those concerns for the most part by following the steps detailed in the video in this post.
After you have Windows 10's privacy issues taken care of, there are a few other things you can do to make your experience with Windows 10 even better than it is right now.
First, you can force Windows to let you log into your user account with a 4 digit numeric pin instead of a password. That will greatly reduce the amount of time it takes you to log in to Windows while still maintaining a high level of security for your user account. This post explains how to set it up.
Next, you can force Windows 10 to recognize the F8 key at boot time for booting Windows into Safe Mode. By default, the F8 key is ignored when Windows 10 is booting up, but this post explains how to re-enable it.
Have you noticed that Windows 10 keeps nagging you to send Microsoft your feedback about the new Windows. If you have, and you find it as irritating as I do, this post explains how to stop Windows 10 from nagging you for feedback.
I also find it annoying that Windows 10 insists on installing Windows Updates automatically. Actually, in my opinion, this isn't simply annoying, it's just plain wrong. If you think so too, this post explains how to disable automatic updates in Windows 10.
You also might have noticed how when you use the Search feature in Windows 10, you are given search results from the Internet along with a list of matching items on your local PC.
I prefer having Windows restrict its searches just to my computer and using Google for my web searches. If you agree, you can force Windows 10 to ignore web results for your searches by following the steps in this post.
And finally, here's an annoyance that you might not be aware of. By default, Windows 10 will use your PC and your Internet connection to distribute Windows Updates to other folks' computers over the Internet.
This allows Microsoft to use your PC and Internet bandwidth to deliver updates to people you don't even know!
Yep, your personal computing resources (and your hard-earned money) are helping Microsoft update computers that belong to total strangers! Luckily, it's very easy to put a stop to it by following the steps listed in this post.
Bottom line: All in all, I really like Windows 10. It's fast, it's stable, and it's extremely easy to use. But that being said, there are several privacy issues and general annoyances that can be greatly mitigated by following the steps listed in the posts mentioned above.
Well, that's it for this week. If you have a tech question that you would like for me to answer, click here and send it in!
Special note: As a subscriber to the RicksDailyTips Tech Newsletter you are automatically entered to win one of my monthly tech gear giveaways. Monthly winners are announced in the first newsletter of the following month.
January's winner will receive a handy iFixit Pro Tech Toolkit.
Not a subscriber to my newsletter? Fill out the short subscription form below to receive my weekly newsletter by email and be automatically entered for my monthly Tech Gear Giveaways!
I hope you found this edition of the newsletter useful and interesting. If so, I hope you'll consider passing it on to any of your friends and associates who might enjoy reading it as well.
Thanks a bunch,
Rick Rouse
Website: www.RicksDailyTips.com
Follow me on Facebook: www.Facebook.com/RicksDailyTips
Follow me on Twitter: www.Twitter.com/RicksDailyTips