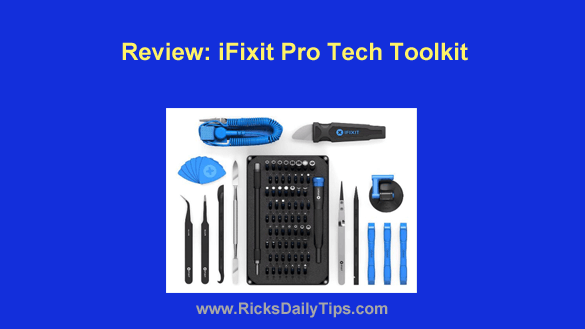 Note: The links in this post are affiliate links.
Back in the golden age of technology, you really didn't need all that many tools in order to build, upgrade or repair computers and many other tech items.
If you owned a couple of screwdrivers, an anti-static wrist strap and a nut driver or two you could work on most any tech item. But today, things are a lot more complicated.
The way modern computers, monitors and mobile devices are constructed makes it virtually impossible to work on some items without specialized tools that can "crack open" a case or extract a part without causing physical damage to the item. 
As you probably know, finding a kit with all the tools required to safely and efficiently work on a piece of tech hardware is pretty difficult without spending a small fortune.
I'm always on the lookout for the latest and greatest in tech tools and equipment at affordable prices, so when I saw an advertisement for the iFixit Pro Tech Toolkit I decided to check it out.
The first thing you'll notice when you open the iFixit Pro Tech Toolkit's carrying case is how neatly and efficiently everything is stowed away in its own compartment. Here's a look…
I was surprised to find pretty much everything I need on my tech bench in such a compact package.
The items you'll find inside this kit include all the tools that techs have been using for decades such as tweezers, nut drivers and an anti-static wrist strap.
But you'll also find a host of specialty tools such as both plastic and metal spudgers for opening all types of plastic cases and a large variety of Torx bits for working on the growing number of products that are held together with Torx screws.
What's more, this kit also includes a suction cup to assist with removing the screens from a wide variety of mobile devices.
The bevy of different bits available is accompanied by a flexible extension that allows you to work in cramped areas inside a device's case as well as a set of Pentalobes for working on a number of different Apple products.
Here's a photo depicting the tools you'll receive tucked inside the handy carrying case:

And here's another photo showing the tools in a bit more detail: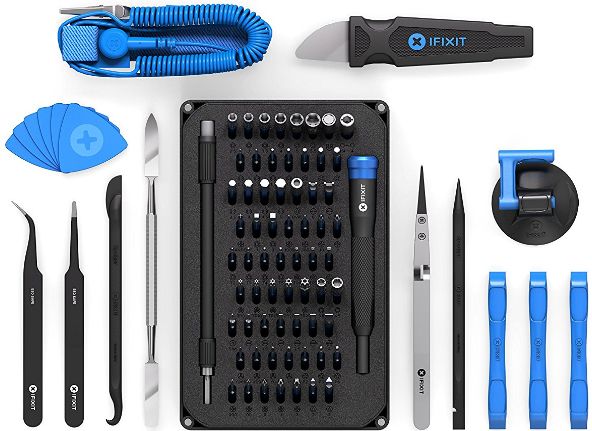 Overall, I'm quite impressed with the quality and precision of the tools in this kit, and I expect them to provide many years of service.
Bottom line: While I found that there are a couple of minor omissions (there are no needle-nose pliers in the kit for example), I believe that the iFixit Pro Tech Toolkit is well worth the money.
Click here to check out the the iFixit Pro Tech Toolkit on Amazon.
---