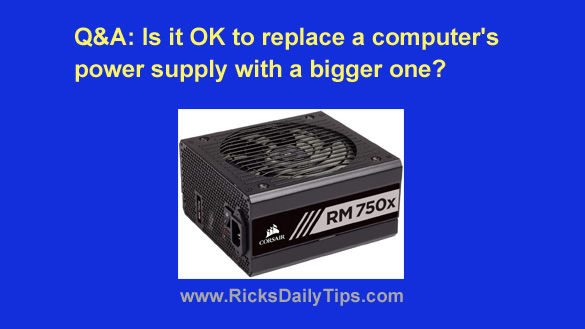 Note: The links in this post are affiliate links.
Question from Roger G.:  Hi Rick. I recently ordered a new desktop computer that has a 350 watt power supply in it.
I bought a new video card for it, but when I went to install it the instructions said the computer's power supply needs to be able to put out at least 550 watts.
I checked online and there are several different kinds of power supplies to choose from and I don't know exactly what kind I need to buy.
I called the company that sold me the computer and asked what kind of power supply is inside it. They told me it's a standard ATX-type power supply.
My questions:
1 – Can I replace this computer's existing power supply with a larger one without burning up anything with the excess power?
2 – If so, can you recommend one?
3 – Can you give me a rough outline of the process required to physically swap out the power supplies?
Rick's answer:   [Read more…]