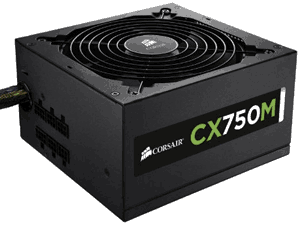 Question from Debra F.:  I need some advice in order to settle a disagreement between me and my boyfriend.
My computer stopped working and my boyfriend says he can fix it by replacing the power supply. He put the one out of his PC in there just to see if everything else still works, and it does.
The original (bad) power supply is rated at 350 watts but he wants to replace it with one that's rated at at least 600 watts.
My question is will the extra wattage put out by a stronger power supply damage my computer? My boyfriend says it won't but it seems to me like it would. Which one of us is right?
I'd also appreciate it if you could recommend a good brand that doesn't cost a lot. Thanks in advance for your help.
Rick's answer:  Your boyfriend is right, Debra. It's perfectly ok to replace a PC's bad power supply unit (PSU) with a more powerful one.
In fact, that's what I always recommend in situations like this, and I always "go big" myself whenever I need to replace a PSU in one of my own machines.
Just so you'll know, a power supply doesn't "push" its rated wattage out to your computer's components.
Instead, each component (CPU, motherboard, video card, hard drive, etc.) will "draw" only the amount of power that it needs in order to work properly.
Think of it like a cup of soda: If you order a 16 ounce cup of Coke at a fast-food restaurant and they hand you a 32 ounce cup instead, you can fill the larger cup with Coke and drink as much as you want. If you still decide that 16 ounces is plenty, that's fine. The cup won't force you to drink the other 16 ounces.
It's quite common for a computer's innards to draw only a portion of the wattage that the power supply is capable of supplying. In fact, that's exactly what we want to happen, for several reasons.
Bottom line: It's perfectly fine to use a power supply that's "stronger" than the one it replaces. Just don't use one that's "weaker" (i.e. has a lower wattage rating).
As far as brands are concerned, I really like the power supplies made by Corsair. They typically cost a little more than their "generic" counterparts, but the extra expense is worth it in my opinion. Click here (#ad) to check out the Corsair line of power supplies on Amazon.
The above being said, there are some very good "generic" power supplies on the market as well. You just need to check the ratings on Amazon and pick one (#ad) that has lots of excellent user reviews.
I hope this helps Debra. Good luck!
Bonus tip #1: This post explains why it's a good idea to always have your computer plugged into a Battery Backup Device.
Bonus tip #2: Want to make sure you never miss one of my tips? Click here to join my Rick's Tech Tips Facebook Group!
If Facebook isn't your cup of tea, I invite you to sign up for my Rick's Daily Tips Daily Update Newsletter.
---
Want to ask Rick a tech question? Click here and send it in!
If you found this post useful, would you mind helping me out by sharing it? Just click one of the handy social media sharing buttons below.