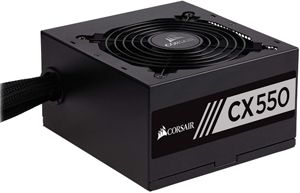 Question from Michael:  The power supply in my computer has gone bad and I need to replace it.
I looked on Amazon and a couple of other sites and there are so many brands to choose from.
Which is the best brand of power supply for someone on a limited budget (hopefully less than $100)?
Rick's answer:  Michael, since you didn't mention the specs you need in your replacement power supply (PSU) or the model of the computer it will be going in, I'll only be able to  give you some very general advice.
There are several companies that make great power supplies, but there are two that I find myself recommending over and over again.
If you look at the selections available on Amazon for both Corsair (#ad) and EVGA (#ad) you'll see that most of their PSUs have plenty of positive user ratings, and that includes some of their least expensive models.
For example, the excellent Corsair CX Series 550 Watt PSU (#ad) pictured above is plenty powerful enough for most recent non-gaming computers, and it's very affordable.
I've used it to replace several defective power supplies in recent years, and I've had excellent results with it.
But that being said, some of the least expensive EVGA PSUs are just as good in my humble opinion.
Bottom line: While the specific model of PSU you'll need will depend on the model of your computer and its power requirements, I believe either Corsair or EVGA will serve you well without putting a crimp in your budget.
I hope this helps, Michael. Good luck!
Bonus tip: Want to make sure you never miss one of my tips? Click here to join my Rick's Tech Tips Facebook Group!
---
Want to ask Rick a tech question? Click here and send it in!
If you found this post useful, would you mind helping me out by sharing it? Just click one of the handy social media sharing buttons below.