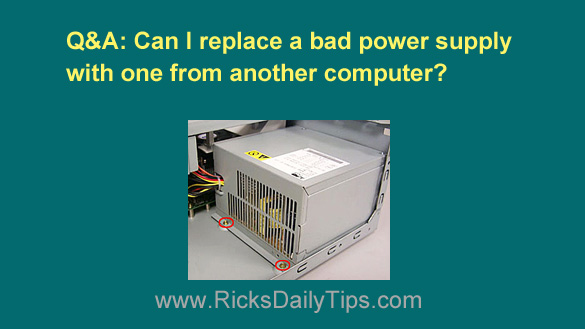 Note: The links in this post are affiliate links.
Question from Larry G:.  Rick, I have a two Gateway Desktop computers, neither of which are operational.
One has a bad motherboard and the other has a bad power supply.
Can I replace the bad power supply with the one in the computer that has the bad motherboard? If I can I won't have to go buy one.
The power supplies look exactly the same and have the same cables and connectors, but the working power supply is rated at 400 watts and the bad one is only 350 watts.
I read your post about replacing Windows with Linux and I'd really like to get one of these machines working so I can install Linux Mint on it.
What I need to know is will replacing a power supply with a more powerful one damage a computer?
Rick's answer:  You should be able to replace the 350 watt power supply (aka PSU) with a 400 watt model with no problems whatsoever, Larry.
You should never replace a larger PSU with a smaller one (in wattage), but it's perfectly fine to replace one with a larger one.
A power supply can safely be replaced with a higher wattage model because the computer's other components will only"draw" the amount of current they need in order to operate correctly.
That's why the actual wattage rating of the PSU doesn't really matter as long as the replacement is rated higher than one it's replacing.
As long as the form factor (the PSU's size and shape) and all the various wires and connectors match, everything should work just fine after you swap them out.
You do need to verify that the mounting screw holes on the working PSU line up with the ones on the bad one.
They almost surely will if they truly are the same form factor, but if one of the power supplies is a non-standard proprietary PSU they might be just different enough to prevent them from being interchangeable.
Important: Static discharge can cause damage to various parts when working with the innards of a computer.
To prevent static discharge damage from occurring, I strongly recommend that you always use an anti-static wrist strap
when installing, removing, or even simply touching any of a computer's internal parts. These wrist straps are quite inexpensive, and you can get one at Amazon as well as many local electronics retailers.
I also recommend that you unplug the power cord and all external devices (USB hard drive, monitor, keyboard, mouse, printer, router, etc.) and let the computer sit idle for at least 15 minutes before removing the cover from the case to work on its innards.
That will give all the capacitors that are likely to cause problems due to a residual charge time to fully discharge before you start working on the computer.
And now, one final warning: Never attempt to disassemble a computer power supply unit (PSU) for any reason!
The large capacitors inside a PSU are capable of storing dangerous amounts of "juice" even after the computer has been shut down and the power cord has been disconnected. Therefore, just don't do it in order to prevent any chance of physical injury.
Now that the dire warnings are out of the way…
If you've never worked with computer power supplies before, the wiring can be a little confusing. If you aren't careful it's very easy to miss a connection or damage the motherboard by trying to plug a connector into the wrong socket.
Before you disconnect anything, I strongly recommend taking a few high quality, brightly lit photos of the power supply connections to both the motherboard and all devices that receive power directly from the PSU (such as the disk drive(s) and video card).
Good photos will make it very easy to verify the connections while connecting the wires from the new PSU to the various computer components.
And finally…
As I already mentioned above, don't forget to use an anti-static wrist strap
any time you are working inside a computer's case!
I hope this helps Larry. Good luck!
Bonus tip: Want to make sure you never miss one of my tips? It's easy! Just…
Click here to sign up for my free Rick's Daily Tips Email Newsletter!
---
Would you like to ask Rick a tech question? If so, click here and send it in!
If you found this post useful, would you mind helping me out by sharing it? Just click one of the handy social media sharing buttons below. Thanks a bunch!