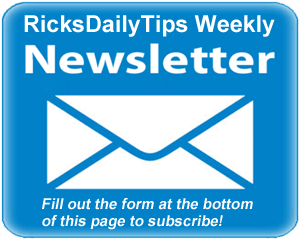 Hello again everyone. I hope you all had a great week!
I'm a huge fan of Windows 10, but I realize that many of you are still wondering whether you want to install the free upgrade or not.
Here are a few reminders for you to consider:
1 – If you do want to give Windows 10 a try for free, you'll need to do it fairly soon.
Microsoft's free update from Windows 7 or Windows 8.1 to Windows 10 offer will expire on July 29. If you haven't installed it before then you'll have to pay over $100 if you ever decide to upgrade to the new Windows. Read this post for more info. 
2 – I strongly recommend that you back up your current Windows installation before installing the update to Windows 10 just in case something goes wrong.
3 – After you have installed the Windows 10 update, you'll have 30 days to try it out to see whether you like it or not.
If you ultimately decide that you don't like Windows 10, you can roll back to your previous Windows version for free at any time during that 30 day trial period.
If you wait longer than 30 days you'll be stuck with Windows 10 unless you don't mind paying for a Windows 7 or Windows 8.1 installation DVD.
A Windows 8.1 installation disc will cost around $100, but you might be able to buy Windows 7 for about half of that.
Well, that's it for this week. If you have a tech question that you would like for me to answer, click here and send it in!
Special note: As a subscriber to the RicksDailyTips Tech Newsletter you're automatically entered to win one of my monthly Tech Gear Giveaways. Monthly winners are announced in the first newsletter of the following month.
Congrats to Jill W. of Florence, SC for winning a handy Seagate Expansion 4TB Desktop External Hard Drive in March's Tech Gear Giveaway.
April's winner will receive a fantastic Samsung T1 Portable 500GB USB 3.0 External SSD.
Not a subscriber to my newsletter? Fill out the short subscription form below to receive my weekly newsletter by email and be automatically entered for my monthly Tech Gear Giveaways!
I hope you found this edition of the newsletter useful and interesting. If so, I hope you'll consider passing it on to any of your friends and associates who might enjoy reading it as well.
Thanks a bunch,
Rick Rouse
Website: www.RicksDailyTips.com
Follow me on Facebook: www.Facebook.com/RicksDailyTips
Follow me on Twitter: www.Twitter.com/RicksDailyTips