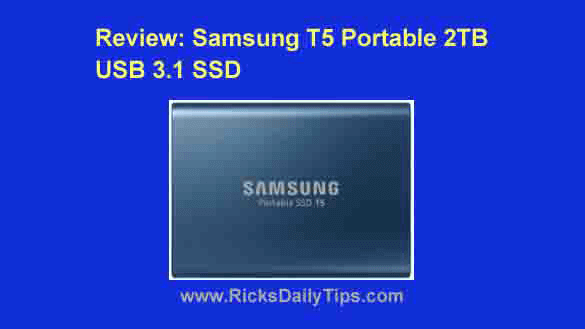 By now you probably know that adding a solid state drive (SSD) to most any computer will make it run a lot faster.
But did you know SSDs are now available as external USB drives?
An external USB 3.1 SSD basically offers the convenience of a USB flash drive along with the speed and storage capacity of an internal solid state drive!
I recently had the opportunity to check out the Samsung T5 Portable 2TB USB 3.1 SSD, and I immediately fell in love with it!
This amazing little jewel from Samsung is about the size of a credit card (although a bit thicker), yet it provides a whopping 2TB of storage and transfers data at a blazing fast 540 MB/s.
It fits easily and comfortably in virtually any pocket and weighs just about an ounce, making it the perfect device for carrying large amounts of data along with you as you travel between your home and office, or even around the world.
Unlike a traditional spinning hard drive, this compact external SSD is shock resistant and designed to protect your data when the drive is stored in a place with a higher than normal ambient temperature.
What's more, it's as easy to use as a USB thumb drive. Just plug it into an empty USB 3.1 port and get right to work!
Bottom line: If you're looking for a a truly portable external drive that can store massive amounts of data while operating at blazing SSD speeds, I believe this small, but spacious USB 3.1 SSD from Samsung deserves strong consideration.
Click here to read more about the Samsung T5 Portable 2TB USB 3.1 SSD at Amazon, including over 13,000 overwhelmingly positive user reviews.
---