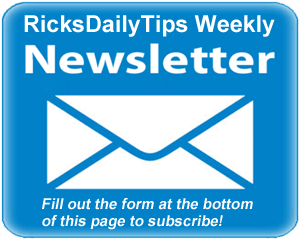 Hello again everyone. I hope you all had a great week!
Technology is advancing at breakneck speeds these days, and I believe we're on the verge of seeing some truly amazing breakthroughs in the tech world before 2016 comes to an end.
With that in mind, here are a few predictions:
1 – Larger and faster solid state drives (SSDs) will render traditional spinning hard drives obsolete. In fact, SSDs that store more data than a typical hard drive are already here, but as of now they are extremely expensive. But that will change, and relatively soon.
Thanks to new technologies for producing non-volatile memory, manufacturers will soon start selling SSDs with speeds that approach the blistering speed of RAM while storing dozens of terabytes of data. Look for them to start showing up by the end of the year. 
2 – Desktop computers loaded with plenty of RAM, fast CPUs and ample solid state storage space will shrink to about the size of a brick. Desktop PCs of this size already exist, but they are still relatively anemic in terms of computing power and data storage space. That too will change very soon, however.
3 – Legacy USB ports (USB 2.0 and 3.0) will no longer be built into most desktop and laptop computers.
As computers get smaller there will be less room on the motherboard and around the perimeter of the case for USB connectors. That means the slower and larger USB 2.0 and 3.0 ports will almost surely be ditched in favor of the smaller and faster USB-C ports.
4 – Windows 10 will be running on more devices worldwide than any other Windows version, and Windows 10 upgrades will still be free in one form or another.
Microsoft is becoming increasingly aggressive at pushing Windows 10 onto Windows 7 and Windows 8.1 machines, and I don't think that will end on July 29 even though Microsoft claims otherwise.
5 – The sales of tablets running Windows 10 will pick up a strong head of steam as tablets in general get larger, more powerful and less expensive.
Thanks to a growing selection of affordable keyboard covers and bluetooth mice, Windows tablets are already serving as very light and compact laptops.
I expect the same technological advances mentioned in #1 above to make affordable, but powerful Windows tablets a compelling alternative to iPads and low-cost laptops.
Well, that's it for this week. If you have a tech question that you would like for me to answer, click here and send it in!
Special note: As a subscriber to the RicksDailyTips Tech Newsletter you're automatically entered to win one of my monthly Tech Gear Giveaways. Monthly winners are announced in the first newsletter of the following month.
Congrats to Jill W. of Florence, SC for winning a handy Seagate Expansion 4TB Desktop External Hard Drive in March's Tech Gear Giveaway.
April's winner will receive a fantastic Samsung T1 Portable 500GB USB 3.0 External SSD.
Not a subscriber to my newsletter? Fill out the short subscription form below to receive my weekly newsletter by email and be automatically entered for my monthly Tech Gear Giveaways!
I hope you found this edition of the newsletter useful and interesting. If so, I hope you'll consider passing it on to any of your friends and associates who might enjoy reading it as well.
Thanks a bunch,
Rick Rouse
Website: www.RicksDailyTips.com
Follow me on Facebook: www.Facebook.com/RicksDailyTips
Follow me on Twitter: www.Twitter.com/RicksDailyTips