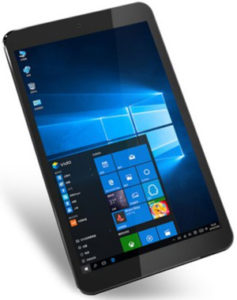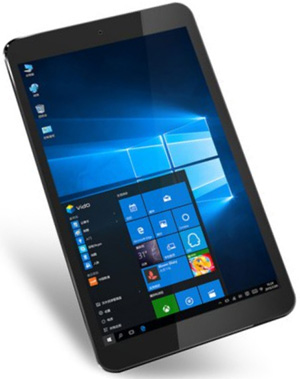 I've used a number of tablets in the past, and as expected, some were better than others.
While I love my Android phone, I'm not a huge fan of Android-powered tablets. They just seem to be too limited for my tastes. And while Apple's iPad line is outstanding, they're a bit over-priced in my opinion.
Since I primarily use tablets when I'm traveling, I'd rather take along something that's a little less expensive just in case it gets lost or stolen.
Personally, I prefer to use a tablet that runs Microsoft Windows.
I can add a keyboard cover and Bluetooth mouse and have a Windows tablet that works exactly like a really small laptop. That's perfect for traveling since I can just toss it into a suitcase. 
I recently received a Vido W8X 8″ Tablet PC with Windows 10 for review, and after using it for a few days I found that I really like it.
At less than $100, this tablet is very affordable, yet it's well-built and quite a bit faster than I had expected. In fact, I've tested new Windows 10 laptops that seemed to run much slower.
The model that I tested came with a snappy Intel Cherry Trail Z8300 64bit Quad Core 1.33GHz CPU, 2GB of RAM, 32GB of flash storage and Windows 10 Home. That's an awesome setup for such a low price!
The first time I powered it up, I was struck by how fast this tablet booted up to the Windows desktop. It actually took me by surprise. I pressed the power button and took a very quick look at my email on my desktop PC, and when I glanced back down at the screen the Windows Desktop was already in view.
Speaking of the screen, I immediately noticed how sharp and bright everything was. With a price of less than $100 for a Windows tablet, I had expected the video quality to be relatively poor. But that wasn't the case at all. In fact, I found the text and graphics to be just as clear and sharp as what I'm used to seeing on an iPad.
The first thing I always do when checking out a new tablet is head over to YouTube and watch a few videos. After connecting to my Wi-Fi network, I loaded a music video to see how the screen and speaker responded.
I found the video quality to be absolutely amazing. Everything was crisp and clear, and I noticed no lagging, stalling or skipping whatsoever. I did find that the audio is a bit weak and "tinny", so I would recommend using headphones or a Bluetooth speaker when watching videos or listening to music with this tablet.
Since I primarily use my tablets as laptop replacements when I'm traveling, my next test involved connecting a Bluetooth keyboard and mouse to see how easily they paired and how well the setup worked as a system.
First, I slipped the tablet into a keyboard portfolio and turned the keyboard on. The tablet discovered the keyboard right away, and the pairing took only second or two. All I had to do was type a code into the keyboard and I was all set.
The mouse was even easier to pair. I just turned it on and pressed the discovery button, and the connection was made almost immediately.
Here's a photo that shows this tablet being used as a laptop: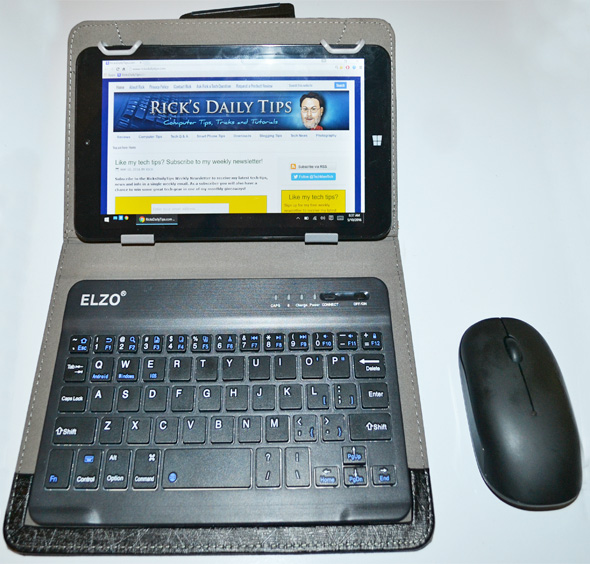 Using the keyboard and mouse, I downloaded Google Chrome and used it to visit several of the websites that I visit on a daily basis. I found that web pages load quickly, and I didn't notice any dropped connections at all.
Next, I installed the AdBlock extension on Chrome to see if the pages would load noticeably faster. They did of course, and that's when I realized just how much I liked this tablet.
I've used this little gem several times over the course of the past week, and I have yet to charge the battery. In fact, it's still sitting at about 55%. The specs say a battery charge should last up to four hours when watching videos, so I would estimate that time to at least double when doing other more routine tasks.
Bottom line: The Vido W8X is the best sub-$100 Windows tablet I have ever used. When used with an optional Bluetooth keyboard and mouse, it functions just like a tiny laptop, and that's perfect for me when I'm out on the road.
Click here to read more about the Vido W8X 8″ Windows 10 Tablet PC at the GearBest website.
If you like this post you can get my latest tips in my weekly RicksDailyTips Email Newsletter. Sign up for free at the bottom of this page!