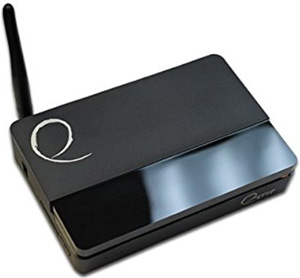 Tiny computers like the Raspberry Pi are becoming more popular every day because of their tiny form factor and low prices. And they are so much fun to work with!
Well, now there's a full-featured ultra-small form factor desktop computer that runs Windows 8.1. And trust me, this is no toy!
The Quantum Byte Fanless Mini PC with Windows 8.1 is one of the most fascinating machines I have ever seen.
Although it's roughly the size of a 3.5″ external hard drive enclosure, this machine is literally packed with all the power and features you'd expect to find in many entry-level laptops and desktop computers. 
Built with portability and convenience in mind, this tiny PC has no moving parts such as a spinning hard drive or cooling fan. Thanks to its ingenious design, it doesn't need them. As a result, it is completely silent in operation and sits unobtrusively in any out-of-the-way area on your desk.
At first glance, this computer looks a lot like a Wi-Fi router, only smaller. It comes equipped with an adjustable Wi-Fi antenna, and all of the ports are conveniently located on the back and left side.
This photo will give you a pretty good indication of just how small this amazing PC is: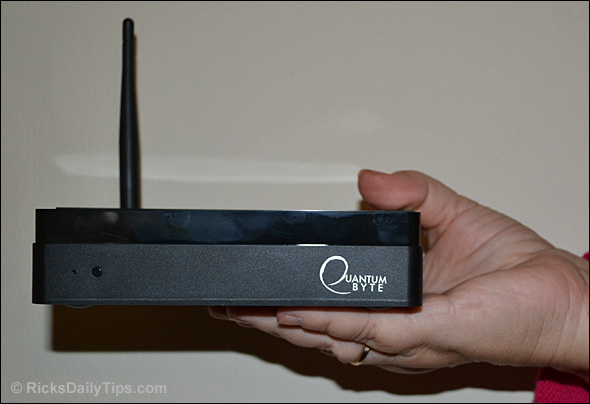 If you're wondering about the hardware you can expect to find in such a small PC, just check out these specs:
Intel Atom Quad-core 73735F CPU
2GB DDR3L RAM
Integrated 32GB Solid State Drive (expandable to 128GB via a microSDHC/SDXC card )
Intel HD Graphics with 1080p HD Video
1 VGA Port
1 HDMI Port
802.11 b/g/n Wi-Fi
10/100M RJ45 Wired Ethernet Port
3 USB 2.0 Ports
Bluetooth 4.0
Dimensions: 5.91 x 1.47 x 4.06 inches
Windows 8.1
Limited 1 Year Warranty
As you can see, this machine has plenty of power and tons of great features packed inside its tiny case. And it's so easy to set up and use! Simply plug in a monitor or TV, a keyboard and a mouse, and you'll be up and running Windows 8.1 in no time.
Thanks to the super-fast solid state storage, Windows boots up in as little as 30 seconds (your actual boot time will depend on the number of startup programs you have).
Netflix and Youtube videos play in Full HD 1080p with no noticable lag, and surfing the Internet, checking email, and using social media sites are a breeze. I honestly think you'll be hard-pressed to find a more capable desktop computer that's literally small enough to hold in your hand.
Bottom line: If you're looking for a Windows PC that's tiny in size, but huge in features and capability, this little gem from Quantum Byte is well worth a look!
Click here to read more about the Quantum Byte Fanless Mini PC with Windows 8.1 on Amazon.
Note: The links in this post are affiliate links.