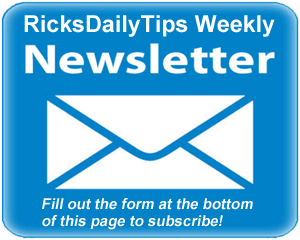 Hello everyone. I hope you all had a great week!
By all accounts, Windows 10 is turning out to be a huge success for Microsoft.
If current estimates turn out to become reality, Windows 10 will soon become the most widely used version of Windows in history. There are several reasons for this:
1 – During the first year, Windows 10 is a free upgrade for current users of Windows 7 and Windows 8.1, and apparently folks are taking advantage of the freebie big time.
2 – Microsoft is pushing the move to Windows 10 hard. In fact, come January it'll be pretty difficult for those wishing to keep using Windows 7 or 8.1 to avoid installing Windows 10. 
It won't be impossible to avoid the update, but unless folks are really vigilant about paying close attention while installing Windows Updates they'll likely end up running Windows 10 whether they want it or not.
Luckily, if Windows 10 does make it onto a PC that belongs to someone who doesn't want it, they'll have 30 days to roll back to the previous Windows version.
3 – Windows 10 is just plain great. In my humble opinion, it's easily the best version of Windows ever. And I must not be alone in holding that opinion since so many people have decided to install the free Windows 10 update.
If you're planning to install Windows 10 on your own computer(s), I have a couple of recommendations for you.
First of all, I think it would be a good idea to check out the system requirements for running Windows 10 to make sure your machine is capable of running the new Windows smoothly and quickly.
Keep in mind that the system requirements listed by Microsoft are the bare minimum for running the operating system. If your PC barely meets those requirements I'm afraid that your user experience after installing Windows 10 will be poor at best.
For example, even though they list 1 GB of RAM as meeting the requirement (2 Gigs for 64 bit machines), I have found that Windows 10 is quite sluggish on the machines that I have seen running it with that amount of RAM. I recommend that you have at least twice the recommended amount of RAM installed before updating to Windows 10.
This post explains how to find out how much RAM is in your computer right now and the type of RAM you'll need to buy should you need to add more.
Another thing to consider is what would happen if the update to Windows 10 were to fail before the installation was completed. In most cases your PC won't boot into either Windows 10 or the previous Windows version. If you find yourself in that special kind of Windows "no man's land", you're going to need a way to recover.
That's why I strongly recommend that you create a System Image Backup of your current Windows installation before you begin installing the Windows 10 update.
This post explains in detail why you need a System Image backup to fall back on in case something goes wrong, and it also includes links to posts explaining how to create the backup.
Well, that's it for this week. If you have a tech question that you would like for me to answer, click here and send it in!
Special note: As a subscriber to the RicksDailyTips Tech Newsletter you are automatically entered to win one of my monthly tech gear giveaways. Monthly winners are announced in the first newsletter of the following month.
Congratulations to Kevin S. of Evansville, Indiana for being November's winner. Kevin will be receiving a Quantum Byte Fanless Windows PC.
December's winner will receive a handy Corsair Flash Voyager Slider 128GB USB 3.0 Flash Drive.
Not a subscriber to my newsletter? Fill out the short subscription form below to receive my weekly newsletter by email and be automatically entered for my monthly Tech Gear Giveaways!
I hope you found this edition of the newsletter useful and interesting. If so, I hope you'll consider passing it on to any of your friends and associates who might enjoy reading it as well.
Thanks a bunch,
Rick Rouse
Website: www.RicksDailyTips.com
Follow me on Facebook: www.Facebook.com/RicksDailyTips
Follow me on Twitter: www.Twitter.com/RicksDailyTips