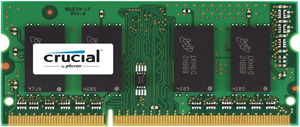 If you're thinking about spending a few bucks to upgrade your PC you're probably wondering what to upgrade in order to get  the most bang for the buck.
In most cases, except for adding a solid state drive, adding more RAM will do more to speed up your computer than any other upgrade you can make. 
Why? Because Microsoft Windows and many of the most popular applications that run on it are resource hogs.
If you run two or three apps simultaneously they must dance around one another as Windows constantly "swaps" part of their code and data between RAM and the hard drive, often bogging the computer down to a snail's pace. Adding more RAM means less "swapping", hence faster system performance.
Luckily for us, adding RAM is one of the fastest and easiest DIY upgrades one can make. It's so easy in fact that virtually anyone can do it. That being said, here are a few things to consider before buying more RAM for your PC:
1 – Make sure you buy the correct kind of memory sticks. Most newer computers use either DDR4 or DDR3 RAM modules.
If your system is old enough to use either DDR2 or even plain DDR RAM it probably wouldn't make sense to pay for the upgrade.
A quick way to find out which type of RAM your PC uses is to type the model number of the computer along with the word "RAM" into Google and visit a couple of sites until you find the information. You can also usually find the RAM type listed on the side of the box the computer came in should you still have it lying around somewhere.
Important: You will also need to know the maximum amount of memory your computer supports. On my Gateway desktop that happens to be 8GB. Your computer might support more or less. Just be aware that you can only add RAM until the total amount installed equals the maximum supported amount.
Another fast and easy way to find out which type of RAM your computer requires is to visit www.crucial.com and run their "System Scanner" tool. You'll see the link to it right on the home page.
This tool is 100% safe and it works extremely well. In addition to the type of RAM you need to buy, the scanner will also tell you how many empty slots are available. Sometimes there will be two or more, other times there will be none.
If your PC has no empty slots available you'll have to remove a couple of the existing RAM modules and replace them with the new ones so be sure to take that into consideration when deciding how much RAM to purchase.
For example, if your PC currently has 2GB of RAM installed as two 1GB modules with two slots empty, you'll need to purchase two 4GB modules and place them into the empty slots in order to increase the total RAM to 10GB.
However, if your PC has four 1GB modules installed for a total of 4GB with no empty slots, you'll need to remove two of the existing modules and replace them with the 4GB units. This will still result in a total of 10GB because you had to remove 2GB of the existing RAM in order to install the new RAM modules.
2 – Make sure you install your new memory modules in matching pairs. While it is often possible to add a single new RAM module in most computers, adding two or four at a time could make the system run faster and experience fewer random "hiccups".
3 – Always purchase RAM with the same specs as the memory sticks that are already installed, especially the speed rating. Mixing RAM modules with different memory specs often causes problems with system stability.
If the memory you wish to install is faster than the PC's existing system memory, consider removing all of the old memory sticks and replacing them with new ones, especially if the motherboard can support the faster speeds. In the long run you'll be glad you did.
4 – Even some older computers can benefit greatly from RAM upgrades, but you might not be able to find the older type of memory sticks your computer needs in your local Best Buy or other retailer. If that turns out to be the case, don't despair. You'll likely find exactly what you need on eBay or Craigslist.
5 – If you don't feel comfortable working with the components inside your PC, you can probably hire the neighborhood computer pro (most likely a tech savvy teenager) to install your new memory for you.
Alternatively, you can take your computer into the nearest computer repair shop or to Best Buy's Geek Squad and have them install it for you.
If you'd like to install your new RAM modules yourself, here are a couple of short videos that show how to do it, step-by-step:
First, if your computer is a laptop…
And if your computer is a Desktop model…
Note: Your laptop or desktop computer might well be different than the ones seen in the videos, but once you have the cover open the procedure for adding/replacing RAM will be more or less the same.
However, be aware that some laptop models don't have removable covers over the RAM slots at all. That means the entire case will need to be at least partially disassembled in order to access the RAM slots.
If your laptop happens to fall into this category you might want to consider paying a computer tech to install the new RAM sticks for you.
Bottom line: A RAM upgrade can often breathe new life into a computer by making it run faster and with fewer random glitches.
Bonus tip #1: This post explains how to speed up your computer even more by replacing its hard drive with a super-fast SSD!
Bonus tip #2: Want to make sure you never miss one of my tips? It's easy! Just…
Click here to sign up for my free Rick's Daily Tips Email Newsletter!
---
Would you like to ask Rick a tech question? If so, click here and send it in!
If you found this post useful, would you mind helping me out by sharing it? Just click one of the handy social media sharing buttons below. Thanks a bunch!