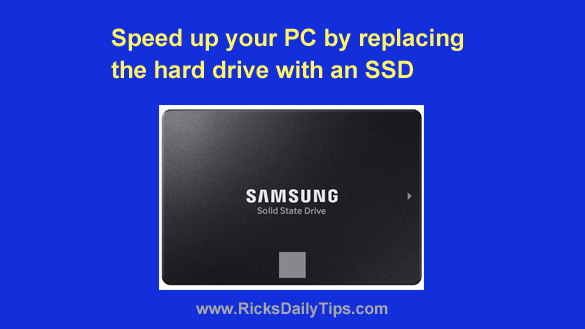 Note: The links in this post are affiliate links.
In a previous post I discussed how adding RAM to your PC would give you the biggest bang for the buck when upgrading your computer.
Adding RAM has always been one of the most cost effective ways to speed up a PC, and it still is.
Today I'm going to tell you about an equally amazing upgrade that could potentially speed up your computer and hurtle it right into the fast lane.
Solid State Drives (SSDs) are amazing devices that work exactly like hard drives, only a LOT faster. Instead of spinning platters and read/write heads, SSDs use non-volatile memory chips to store your computer's operating system, programs and data files.
Since these memory chips have no moving parts and work at incredible speeds, they allow data to be written to and read from an SSD at speeds that make even the fastest traditional hard drives seem rather pokey.
Virtually all PCs that work with either SATA 2 or SATA 3 hard drives will also work with a 2.5″ SATA SSD, and truth-be-told, there are relatively few computers still in use that don't support one of these standards.
To find out if your computer supports either SATA 2 or SATA 3, type the brand and model number of your PC along with the word "specs" into Google and you'll be presented with a list of websites that will list the hardware specifications of your system. If you see SATA 2 or SATA 3 listed you're good to go.
If you decide to upgrade your boot drive to an SSD, simply follow the steps in this post to clone the contents of the existing hard drive onto the new drive. If you don't mind spending about the cost of a good pizza, this post explains an even simpler way to clone the drive.
If your computer's case has an open drive bay, I recommend that you leave your old hard drive inside the case and use it as a secondary data drive. This will give you extra room to store your photos and other files.
If you simply can't leave the hard drive installed in the computer (if there is only one drive bay for instance) you can always convert it into an external USB drive.
If you just don't feel comfortable doing this upgrade yourself, you can always take your PC to your local computer shop and have them do it for you. The techs there will know all the steps required for installing your new SSD and transferring all of your files over without losing any data.
Bottom line: Replacing your computer's hard drive with a super-fast SSD is one of the most effective upgrades you can make for making it run faster!
Click here to check out the great selection of solid state drives at Amazon.
---