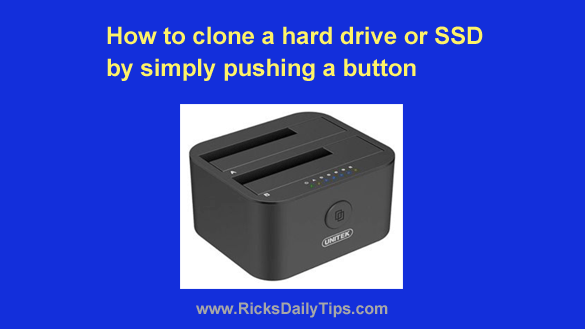 Note: The links in this post are affiliate links.
I have written several posts that explain how to clone a hard drive or SSD, and every time I think I've found the simplest method possible I eventually discover an even easier way to do it.
Well, I've found yet another way, and I honestly don't think cloning a drive could be any simpler than this.
The Sabrent USB 3.0 to SATA Dual Bay External Hard Drive Docking Station literally makes the process of cloning a hard drive or SSD onto a target drive as simple as pushing a button!
This is all you have to do to clone a hard drive or SSD using the Sabrent docking station:
1 – With the docking station/duplicator powered off and disconnected from your computer, insert the source drive (the drive you wish to copy) into slot 1 and the target drive into slot 2.
2 – Press the Clone button to start the cloning process.
That's it. When the copy procedure is finished you will have cloned a drive simply by pushing a button!
The time it takes to clone a drive will depend on how much data is stored on the source drive. It could take anywhere from just a few minutes to several hours.
The Sabrent docking station works with both 2.5 inch laptop drives and 3.5 desktop drives that use a SATA interface.
You can even mix the drives sizes (i.e. copy a 3.5 drive to a 2.5 inch drive). The target drive MUST be the same size as the source drive or larger.
For example, you can clone the contents of a 1TB drive onto a 2TB drive, but not the other way around.
It's important to note that this device is also a USB 3.0 docking station that allows you to use up to two bare internal drives as external USB drives. You can almost think of it as a USB 3.0 "hub" for hard drives and SSDs.
One of the most amazing things about this docking station/drive duplicator is the low price. Considering everything this gadget does, I was fairly shocked when I saw how little it costs.
Bottom line: If you're looking for the simplest way possible to clone hard drives and SSDs and/or use them as external USB drives, you have just found it!
Click here to read more about the Sabrent USB 3.0 to SATA Dual Bay External Hard Drive Docking Station at Amazon.
---