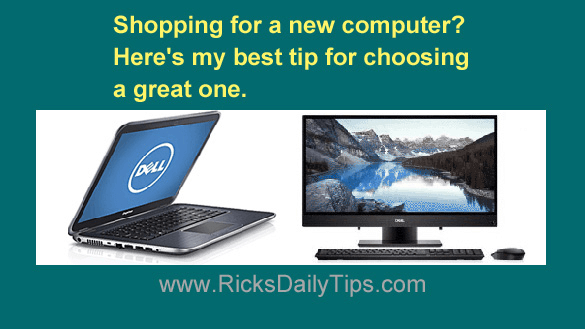 Note: The links in this post are affiliate links.
If you've been using computers for a good while, chances are you've had to replace one or two along the way.
If so, you know that shopping for a new PC can be about as bewildering as shopping for a new car.
And while it's always a lot of fun unpacking and setting up a new computer, you probably wonder if you made a good choice when picking it out.
Well I have a little tip that can help you feel better about your choice when it comes time to pick out a new computer.
All you have to do is buy one that lots of other people are buying – and liking! And the easiest way to do that is to check out the list of best selling computers on Amazon.
Amazon keeps a running list of the best selling items in any given category. I recommend checking out the computers on the "Best Sellers" list and then choosing one that has a lot of positive user reviews.
If lots of other people like a particular model, chances are you will too.
The user reviews will alert you to any common problems that seem to afflict a particular model, allowing you to eliminate it from your pool of possible choices.
Using the Amazon "Best Sellers" list to choose a great computer is easy. Start by checking out the best-selling computers in the category you're most interested in…
This page
features the best selling laptops.
This page features the best selling desktop computers.
After you're on the "Best Sellers" page you can check out the computers listed in more detail by clicking on them. Be sure to check out the specs for each model (CPU, RAM, hard drive, USB ports, etc.), then read the reviews for that model if the specs meet your needs.
Once you find a computer you like that has tons of great reviews, you can order it right from the details page – and in most cases get free shipping!
If you prefer to buy locally, you can always use Amazon's "Best Sellers" list and user reviews to help you choose a brand and model, then see if one of your local retailers has it in stock.
Pretty simple, right? Happy shopping!
---