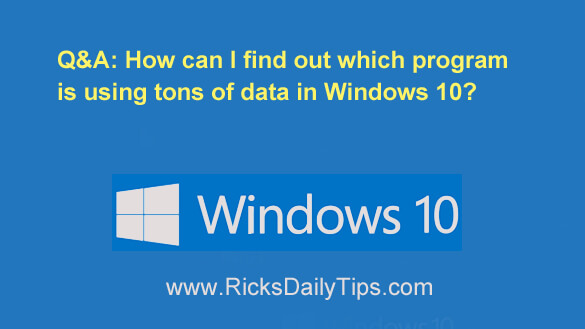 Like my tips?  Click here to sign up for my free Daily Tech Tips Newsletter and you'll never miss one!
---
Question from Gary M.:  My ISP has notified me that I have exceeded the monthly data allotment for my Internet plan and that I might have to pay extra this month.
I don't understand this because I only use the Internet for about 1 to 2 hours per day and I don't do much streaming at all other than watching an occasional YouTube video.
I only use one computer on my Internet connection (Dell laptop with Windows 10) and I don't have anything whatsoever connected to Wi-Fi. I'm hoping that'll make it easy to find out why I'm using all that data.
Can you tell me what I need to do to find out what's going on?
Rick's answer:   [Read more…]