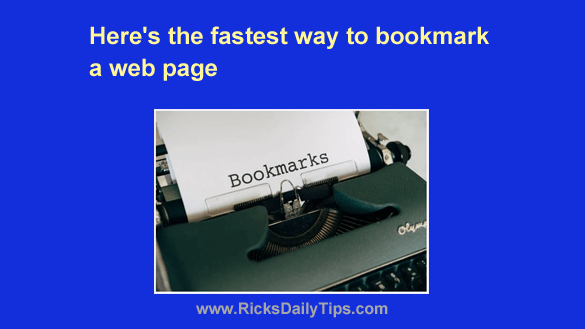 Do you use Chrome, Firefox or Edge for your web browser?
If so, you probably know that you can either click the "Star" icon on the right side of the address bar or press Ctrl+D to bookmark the web page you're currently viewing.
Those are the methods most people use to bookmark a page, but there's an even better way because it only requires a quick click and drag. Here's how to do it:
1 – Open a web page in either Chrome or Firefox.
2 – Click on the URL in the address bar to select it.
3 – Click on the selected URL and drag it down to the Bookmarks bar, then release the mouse button.
That's all there is to it. The current page should now be bookmarked.
What's more, the bookmark itself should be located in the position where you "dropped" it onto the Bookmarks bar relative to the previously existing bookmarks.
In a nutshell, this method allows you to quickly bookmark the currently displayed web page AND position the bookmark exactly where you want it at the same time.
Note: I have verified that this bookmarking method works in Chrome, Firefox and Edge, but it most likely works in most other browsers as well. You can always give it a try!
Bonus tip: This post explains how to quickly change the text size on the web page you are viewing.
---