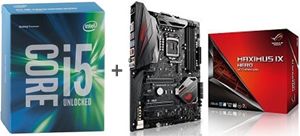 Question from Travis:  I've been wanting to build a gaming PC for a while and I've finally saved enough money to build one as long as I can keep the cost of the CPU and motherboard to around $400 total.
I've found several combos in that price range but I'm most interested in this Intel Core i5 CPU and ASUS ROG motherboard.
Do you think these will make a good gaming computer if I install 16GB of RAM and a good video card?
Rick's answer:   [Read more…]