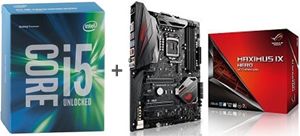 Question from Travis:  I've been wanting to build a gaming PC for a while and I've finally saved enough money to build one as long as I can keep the cost of the CPU and motherboard to around $400 total.
I've found several combos in that price range but I'm most interested in this Intel Core i5 CPU and ASUS ROG motherboard.
Do you think these will make a good gaming computer if I install 16GB of RAM and a good video card?
Rick's answer:  Travis, the short answer to your question is yes, they will. In my opinion this combo is about the best you can hope for if you can only spend about $400 total on the CPU and motherboard.
First of all, this particular Intel Core i5 processor is a very fast and capable CPU that'll allow you to take full advantage of the capabilities of the motherboard that comes with it.
And speaking of the motherboard, the truly awesome ASUS ROG Maximus IX Hero LGA1151 supports super-fast DDR4 RAM and outstanding M.2 and/or SATA SSDs.
I won't go into all the great features of this motherboard since you can read them for yourself, but you can rest assured that it's one of the best gaming motherboards for Intel CPUs on the market in its price range.
You didn't mention how much you have to spend in total for the system, but I have a three recommendations for you:
1 – Buy a relatively small M.2 SSD to hold your Windows installation (because that's where you need the most speed). Something like this 250GB Samsung 960 EVO (#ad) would be a great choice. (But a smaller SATA III SSD will do just fine if your budget is really tight.)
2 – Install a large SSHD to hold your games and user files. Something like this Seagate 2TB FireCuda Gaming SSHD (#ad) would be perfect.
3 – Use whatever money is left in your budget to buy the best video card, monitor, speakers, keyboard and mouse you can afford right now, then upgrade those items later as your finances allow.
Bottom line: I think you've made a fine choice with this particular CPU and motherboard combo. I say go for it!
I hope this helps, Travis. Good luck!
Bonus tip: This post offers some tips for choosing a power supply for your new gaming PC.
---
Do you have a tech question of your own for Rick? Click here and send it in!
If you think your friends would like this post, I'd love you to share it! Thanks a bunch!