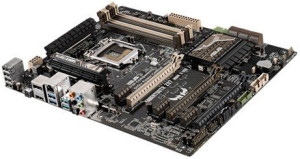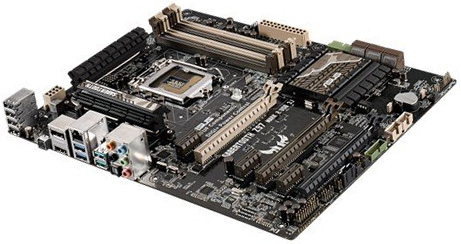 As as general rule I don't recommend replacing a perfectly good motherboard with a newer, faster model, but every now and then I run across a motherboard that offers something so great that I think an upgrade would be worthwhile.
The Sabertooth Z97 Mark 2/USB 3.1 Motherboard from ASUS meets that standard quite nicely in my opinion.
And best of all, it's affordable – even for those of us who happen to be on a strict budget. 
This board provides everything you would expect in a modern motherboard. It can handle Intel CPUs ranging from the lowly Celeron all the way up to the powerful Intel Core i7 and up to 32 GB of DDR3 RAM.
Here is a top view of the Sabertooth Z97 Motherboard: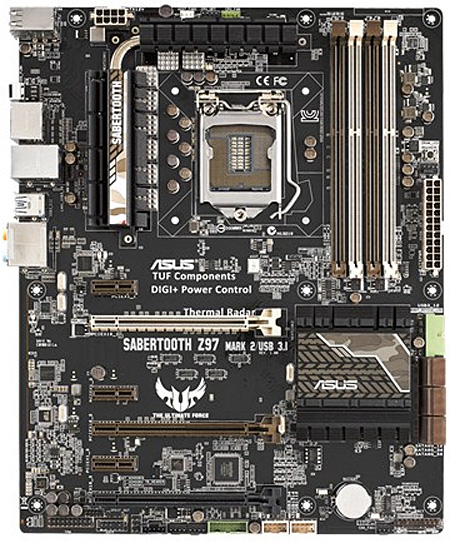 But what really sets this motherboard apart from the pack is the built-in support for Gen 2 USB 3.1 which allows for sustained input/output at blazing 10 Gbps speed. That's twice as fast as the USB 3.0 and USB 3.1 Gen 1 standards!
This is a high-quality ATX form-factor motherboard that's built around the Intel Z97 Chispset. It's "TUF" components are certified by Military standards and the entire board is backed up by a full 5 year warranty.
Bottom line: If you're looking to replace a defective ATX motherboard, upgrade an older, but working board with a faster, more capable model or even build a new home-brew PC from scratch, this gem from ASUS is definitely worthy of strong consideration.
Click here to read more about the ASUS Sabertooth Z97 Mark 2/USB 3.1 Motherboard at Amazon.
Note: The links in this post are affiliate links.