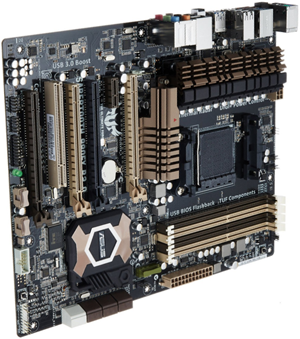 Question from Aaron P.:  When my PC died I decided to build my own computer instead of buying one off the shelf to replace it.
This is a list of the parts I used in the build:
Sabertooth 990FX R2.0 Motherboard
Athlon X2 5200+ CPU
Kingston HyperX FURY 16GB RAM Kit
GeForce GTX 1050 Ti SC Gaming Video Card
2 Crucial MX300 1TB SSDs
Thermaltake Smart DPS G 750W 80Plus Gold Power Supply
Windows 10 Home Edition
After the parts arrived I put everything together but I can't get it to power up. The screen stays blank and there are no beeps or sounds of any kind except for the case fans and PSU fan noise.
I've double-checked everything I know to check. Any ideas?
Rick's answer:  First of all, congrats on your decision to build your own desktop PC from scratch. That's a great way to learn the ins and outs of computer hardware. And don't worry, you are far from the only person who has ever ran into difficulty with their first build.
To answer your question, there are several things that can prevent a newly built computer from powering up. Here are the possibilities (in order of most likely to least likely):
1 – The CPU isn't inserted into the socket correctly and/or it has one or more bent pins.
I recommend that you carefully remove the CPU from its socket and verify that none of the pins are bent, missing or otherwise damaged.
If you find any bent pins you can follow the steps listed in this post to straighten them.
After you have verified that all the pins are straight and undamaged, carefully insert the CPU back into the socket.
2 – You either forget to connect one of the cables that lead from the power supply unit (PSU) to the motherboard or one of the cable connectors isn't seated properly.
If this is the case the most likely culprit is the 8 pin CPU power cable, so I would check that cable first.
If the CPU cable is connected correctly, try unplugging the other cables and plugging them back in one at a time. Using the motherboard and PSU documentation as your guides, make sure you have the power cables connected to the right headers.
3 – You could have purchased a defective component.
While relatively rare, defective parts do make their way into the retail pipeline. If everything checked out in steps 1 and 2 above but the computer still won't power up, it's probably due to a bad part.
If one of the components is indeed defective, the culprit will almost certainly be either the power supply or the motherboard since a defect in either could cause the CPU not to respond after you press the power button.
While it's always possible that you could have received a bad CPU, that's highly unlikely because of the extensive testing they undergo before being boxed up at the factory. If none of your CPU's pins are bent or damaged it is most likely in working order.
It's also unlikely that a bad SSD, video card or RAM module is causing the problem. While those components are sometimes defective when received by customers, they usually won't cause the system not to respond at all. You will almost always hear a beep and/or see some type of error message on the screen.
To summarize, ensure that the CPU pins are all straight and that the chip is inserted correctly, then double-check the power cable connections at both ends. If the issue still persists after that you'll probably need to return the power supply and motherboard for replacement under their warranty terms.
I hope this helps Aaron. Good luck!
Update from Aaron:  It was the 8 pin CPU power cable. I had somehow missed it when I was connecting everything up. Thanks for your help!
---
Like this post? If so, I hope you'll consider sharing it with your friends.
And by the way, you can get even more tips in my weekly RicksDailyTips Email Newsletter. Sign up for free at the bottom of this page!
Do you have a tech question of your own for Rick? Click here and send it in!