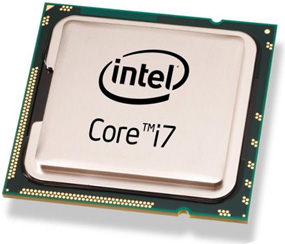 Question from Byron J.:  Hi Rick. I have a serious problem and I need your help.
I bought a new Intel Core i7-4790K CPU the other day to go in a gaming rig that I'm building.
I removed the CPU from the packaging and placed it on the table. As I was working I dropped a screwdriver on the CPU and bent several of the pins.
None of the pins are bent really bad, but I'm afraid I might break them off when I try to straighten them out. As you know, this is a very expensive CPU and I don't think I'll be able to return it if I break a pin off.
Can you tell me the best way to straighten bent CPU pins without breaking them off?
Rick's answer:  I understand your predicament quite well Byron, as I have been in the same situation more than once.
You're right to be concerned about breaking the pins on your CPU while trying to straighten them. CPU pins are quite fragile and easy to break, even when you handle them with the utmost care.
That being said, you should be able to straighten the bent pins on your CPU chip without breaking them off since you said they aren't bent all that bad.
I usually use three tools to straighten bent CPU pins:
1 – A small jeweler's screwdriver
2 – An empty mechanical pencil (no lead inside of it)
3 – A credit card
Using the tools above, follow these steps to straighten your bent pins:
Important point #1:  Regardless of how careful you might be when following the steps below, there is always a chance that a pin might break off. Unfortunately, that's just a chance you'll have to take. Just sayin'.
Important point #2:  Be sure to take the proper precautions for dealing with static electricity when handling your CPU (and any other electronic components) in order to prevent having a static discharge damage the chip.
1 – If the pins are bent to the point where they are almost at a 90 degree angle, carefully use the jeweler's screwdriver to SLOWLY pry the pin up enough to where you can safely work on it without damaging any nearby pins.
You said the damaged pins on your particular chip aren't bent all that much so you can probably skip this first step.
2 – Slip the open tip of a mechanical pencil over one of the bent pins so that it slides down over it like a sleeve. Don't force the pencil onto the pin or you could easily break the pin off.
3 – After the pin is inside the tip of the mechanical pencil as far as possible, use the pencil as a lever to gently (and slowly) straighten the pin as much as you can.
4 – Repeat the steps above for each of the remaining pins.
5 – Insert a long edge of the credit card in between a row of pins that contains one or more bent pins and an adjacent row of pins.
6 – Carefully and slowly push the side of the credit card up against the straight pins (the ones that were never bent) to bring the bent pins into proper alignment with the unbent pins.
7 – Repeat steps 5 and 6 for any other rows that contain bent pins (keeping the credit card oriented the same way for each row).
8 – Rotate the credit card 90 degrees and repeat the steps above to straighten the pins in the other direction.
9 – Carefully examine each row of pins to make sure that each and every pin is now as straight as possible and in near-perfect alignment with its row (in both directions).
10 – Carefully and slowly insert the CPU into it's socket, taking care not to bend any pins in the process.
That's all there is to straightening one or more bent CPU pins.
I hope this helps Byron. Good luck!
Update from Byron:  Thanks for those awesome instructions Rick. I was able to straighten all the pins and the computer seems to be working great!
Like this post? If so, you can get even more tips in my weekly RicksDailyTips Email Newsletter. Sign up for free at the bottom of this page!
---
Do you have a tech question of your own for Rick? Click here and send it in!
And now for a bonus tip: Be sure to sign up for my free RicksDailyTips Email Newsletter at the bottom of this page!
Want to help spread the word about my tips? Just click one of the handy social media sharing buttons below: