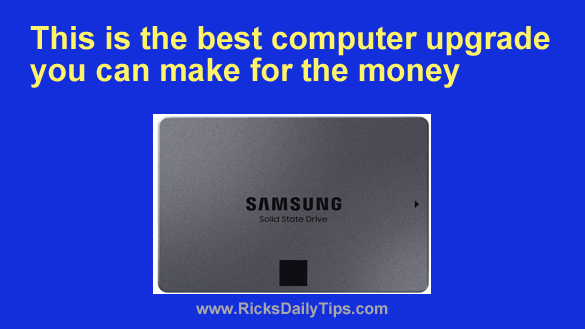 Every week I receive hundreds of questions for the Tech Q&A section of my blog, and one question I get asked on a regular basis is "What's the best upgrade I can make to speed up my computer?"
In times past my answer was always the same: Add more RAM
But I'm afraid that's no longer true in most situations…
The vast majority of new computers come with at least 4GB of RAM nowadays, and for the tasks performed by the typical user, that amount is adequate.
Of course if you're going to run Photoshop, edit videos or play resource-hungry games then bumping the RAM up to 8 or even 16GB (if your computer's motherboard can support that much) will help a great deal.
But those exceptions aside, I believe the most effective upgrade you can make to a computer nowadays is to replace the hard drive with an SSD.
You'll likely be astonished at how much adding an SSD to your system will speed up the boot process and make your entire computing experience so much more enjoyable.
And the great thing is you don't need a super-massive (and expensive) SSD!
All you really need is a solid state drive that's large enough to hold your operating system (Windows, Mac OS X or Linux) and a few of your most-used programs. Everything else can be stored on the hard drive you were using before you installed the SSD.
If your machine is a desktop PC you can simply leave the hard drive installed as a secondary drive. If it's a laptop you can convert it into a USB drive by placing it inside an inexpensive enclosure.
And now one final thing to consider: Should you upgrade your existing system at all?
In my opinion the answer is yes if it originally came with either Windows 7, Windows 8/8.1 or Windows 10.
If it came with Windows Vista or earlier I believe you'll get more bang for your upgrade bucks by skipping the upgrade altogether and buying a new computer, especially since the operating system has long been abandoned by Microsoft and is no longer safe to use.
However, replacing the hard drive with a small SSD and installing Linux on it can breathe new life into those old, and rather slow machines as well.
Bottom line: If you only have a few bucks to spend on a computer upgrade, I believe the best way to spend them is on a super-fast SSD! (#ad)
---