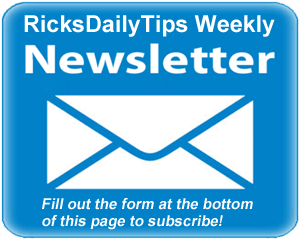 Hello again. I hope you had a great week! I also hope you and your family have a joyous and safe time as you celebrate the 4th of July holiday weekend!
The big news this past week was the decision by Microsoft to finally give users a straightforward way to decline the free Windows 10 upgrade, once and for all.
It was a long time coming, but they finally came around to doing the right thing. 
Of course losing a landmark lawsuit over the "forced" upgrade probably prompted them to make this decision. If you happened to miss it, you can read more about this development right here.
Another story that caught my eye detailed the first fatality ever of someone riding in a self-driving car. It appears that self-driving vehicles still have a ways to go before they can be considered truly safe.
That will likely change in the not-so-distant future, but right now the thought of autonomous vehicles driving on America's roads doesn't exactly give me that warm and fuzzy feeling.
A couple of intriguing questions hit my inbox during this past week, and I thought you might be interested in hearing them as well.
First, Bailey H. asked how she can remove a virus from her PC when she can't get her anti-virus software to run. This is actually a very common issue, but it's usually a fairly easy one to resolve. You can read my answer right here.
And finally, Dale L. asked the salesperson who had just sold him a new laptop computer if he could recommend a good surge protector for the machine. The answer he received was a bit surprising, and I offered Dale an entirely different opinion.
Well, that's it for this week. If you have a tech question that you would like for me to answer, click here and send it in!
Special note: As a subscriber to the RicksDailyTips Tech Newsletter you're automatically entered to win one of my monthly Tech Gear Giveaways. Monthly winners are announced in the first newsletter of the following month.
Congrats to Bobby M. of Chillicothe, OH for winning the fantastic Vido W8X 8″ Windows 10 Tablet PC in June's Tech Gear Giveaway.
July's winner will receive an awesome TP-LINK Archer C7 AC1750 Dual Band Wireless AC Gigabit Router.
Not a subscriber to my newsletter? Fill out the short subscription form below to receive my weekly newsletter by email and be automatically entered for my monthly Tech Gear Giveaways!
I hope you found this edition of the newsletter useful and interesting. If so, I hope you'll consider passing it on to any of your friends and associates who might enjoy reading it as well.
Thanks a bunch,
Rick Rouse
Website: www.RicksDailyTips.com
Follow me on Facebook: www.Facebook.com/RicksDailyTips
Follow me on Twitter: www.Twitter.com/RicksDailyTips