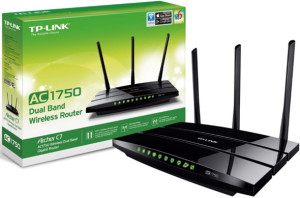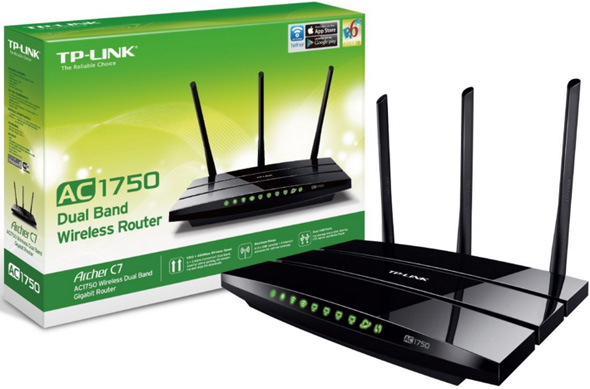 Your router is the bridge between your computers, mobile devices and other Internet-connected gadgets and your broadband modem, making it one of the most important components of your local network.
Router technology has advanced by leaps and bounds of late, and super-fast and reliable AC class routers are the best ever in my opinion.
I recently had the opportunity to check out the TP-LINK Archer C7 AC1750 Dual Band Wireless AC Gigabit Router (#ad), and I believe it's the best AC class router you can buy without spending a small fortune.
The folks at TP-LINK have a stellar reputation for making high-quality networking devices, and this router certainly lives up to that reputation. Just check out these specs:
Dual band (2.4GHz and 5Ghz)
1.75Gbps total available wireless bandwith, (450Mbps at 2.4GHz and 1300Mbps at 5GHz)
Four 1Gbps wired Ethernet ports
Two USB ports for connecting a hard drive and/or printer to the network
Guest Network Access allows guests to securely access the Internet without knowing your primary network's Wi-Fi password
IP-based Bandwidth Control allows you to easily manage the bandwidth alotted to individual devices connected to the router
One-touch WPA wireless security encryption with the handy WPS button
Easy Setup Assistant provides a quick & hassle-free installation process
This router fully supports the latest 802.11ac wireless Wi-Fi standard for super-fast simultaneous connections using multiple devices. You can even limit the bandwidth to individual "bandwidth hogging" devices to ensure a more robust user experience for all the other users on the network.
I found the C7 AC1750's setup to be fast and easy. The hardware seems to be well-built, and it comes with a rock-solid two-year warranty.
While there are faster AC class routers out there, the TP-LINK Archer C7 AC1750 is more than fast enough for most any home or office that doesn't include half a dozen "online gamers" going at it full blast.
Bottom line: If you're looking for a fast and reliable AC class router, I don't think you'll find a better one at the same price.
Click here (#ad) to read more about the TP-LINK Archer C7 AC1750 Dual Band Wireless AC Gigabit Router at Amazon, including over 11,000 overwhelmingly positive user reviews.
---
Like this post? If so, I invite you to share it with your friends. Just click one of the handy social media sharing buttons below.