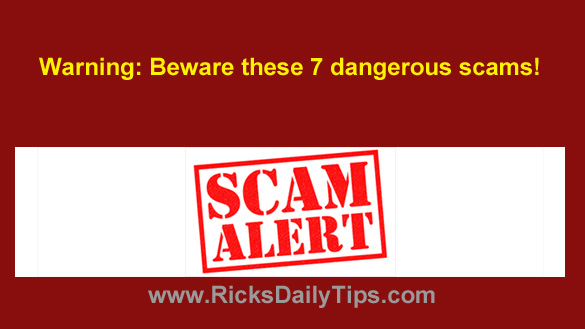 Nary a day goes by when I don't receive fraudulent emails in my inbox and see one scam post after another hit my Facebook Newsfeed.
And unfortunately, there are plenty of dangerous scams taking place in the offline world as well.
It seems that the scammers are getting more sophisticated every day, and more people are falling for their treachery as a result.
That's why I thought I'd take this opportunity to tell you about some of the most insidious scams that seem to keep popping up at various times.
I have written about these scams in detail, and the links below will take you to those posts:
1 – "Evil Twin" Wi-Fi Networks – This is one of the most dangerous scams out there, and thousands of travelers fall for it every year.
2 – "One-Ring" Phone Scam – Thieves are using this scam to steal thousands of dollars from unsuspecting mobile phone users every day.
3 – Feel Good" Facebook Posts – This scam has been around about as long as Facebook itself, and it's more popular right now than ever.
4 – Facebook Lottery Scam – There are several variations of this scam, and they all tend to rear their ugly heads every time a PowerBall or Mega Millions jackpot grows to a massive amount.
5 – Apple/Microsoft "Tech Support" Scam – This is another scam that makes the rounds every now and then. In a nutshell, scammers attempt to trick computer users into thinking the techs at Apple or Microsoft have found computer viruses on their machines.
6 – "Driver Update" Scam – Hackers and thieves use malicious websites and emails to make dire-sounding warnings about out-of-date hardware drivers pop up on your computer. They then attempt to sell you useless software that will "update your drivers".
7 – Walmart Gift Card Scam – This is another scam that makes its way around Facebook on occasion. There are several variations, but they all attempt to trick you into taking some action in order to qualify for a free gift card.
Bottom line: Technology has richly enhanced our lives in recent years, but it has also made it a lot easier for thieves and scammers to target innocent victims on a massive scale.
To paraphrase an old adage: "If something sounds too good to be true, you'd be wise to assume that it is!"
---
Never miss a tip!  Click here to sign up for my free Daily Tech Tips Email Newsletter!