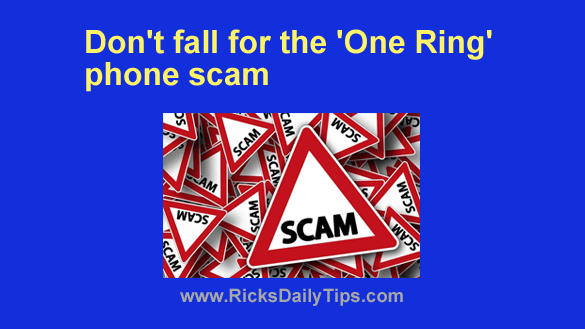 There's a very dangerous telephone scam that pops up every now and then, and right now the scammers are back to working it pretty hard.
It's called the "One Ring" phone scam, and if you fall for it you could end up having $15 or more added to your next phone bill (that's $15+ for every time you fall for the scam).
This scam works something like this:
Your mobile phone rings one time, and one time only. You look at the screen to see who tried calling you, then out of curiosity you call the number back. You are then charged at least $15 on your next phone bill for placing a call to the Caribbean.
And unfortunately, the scam doesn't end there. Calling the number back lets the scammer know his auto-dialer successfully called an active cell phone number.
The scammer then puts your phone number on an active number list and signs your mobile account up for one or more bogus services, each of which will add an additional monthly charge to your phone bill.
And if all that isn't bad enough, after he's milked it for all it's worth he'll sell the list containing your number to other scammers who'll then start sending a flood of scam calls your way.
These fraudulent calls typically originate from someplace in or around the Caribbean using one of these area codes:
232 – Sierra Leone
242 – Bahamas
246 – Barbados
268 – Antigua
284 – British Virgin Islands
345 – Cayman Islands
441 – Bermuda
473 – Grenada, Carriacou, and Petite Martinique
649 – Turks and Caicos
664 – Montserrat
721 – Sint Maarten
758 – St. Lucia
767 – Dominica
784 – St. Vincent and Grenadines
809, 829, and 849 – The Dominican Republic
868 – Trinidad and Tobago
869 – St. Kitts and Nevis
876 – Jamaica
Most people these days simply refuse to answer ANY calls from numbers they are unfamiliar with, and that's an excellent policy to follow.
But that being said, plenty of folks do answer every call that comes in. And sadly, that often results in them getting scammed out of their hard-earned money. Don't allow yourself to become a victim!
Bottom line: If your phone rings one time and then  stops, don't attempt to return the "missed" call unless you recognize the number and truly wish to talk to the other party. And NEVER return a missed call from one of the area codes mentioned above.
If you suspect that you might have possibly fallen victim to this scam already, check your most recent cell phone bills for unusual charges. If you find one or more of them, contact your cellular provider right away and ask to have the unauthorized service(s) terminated immediately and the bogus charge(s) removed from your bill.
Note: There's a variation of this scam in which the scammers pose as representatives for a resort or travel agency selling deeply discounted vacation packages. Don't fall for it!
---