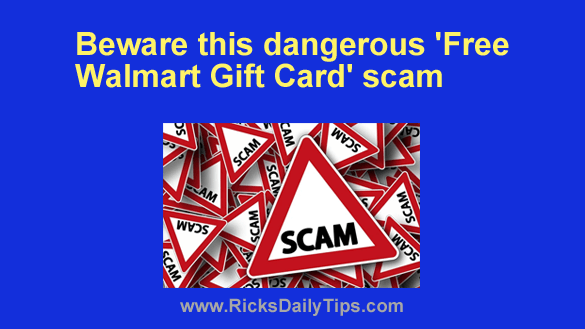 The scammers just never seem to take a break from Facebook, and one of the most enticing scams of them all is making the rounds yet again.
It's basically just a variation of the old "Free Gift Card" scam that pretty much stays viral on Facebook.
In a nutshell, the scam says Walmart is giving away free $250 gift cards to anyone who wants one. 
All you have to do is click a link to visit their website and enter your name, your mailing address and your phone number into a handy-dandy form. After they receive the requested info they'll mail your free gift card right out to you!
Sounds pretty great, right?
The problem is, Walmart isn't really giving away free gift cards. And neither is anyone else unless the giveaway is part of a promotion being offered via the company's official website or verified Facebook page (look for the blue checkmark).
If you think about it, it's easy to see why these types of offers have to be scams…
Facebook has over 2 billion users, and even if just 10% of them were to receive a free $250 gift card…well, you can do the math.
Bottom line: The only people who end up getting anything for free in these "giveaways" are the scammers who post them.
If you take the bait and enter the information requested on the scammer's fake "Walmart" website you'll quickly end up on numerous scammer and spammer lists.
Always remember that you're not going to a get a free gift card, a free iPad, or a free anything else of real value just for handing over your contact information.
When you see this type of scam posts, simply ignore them and report them to Facebook.
---