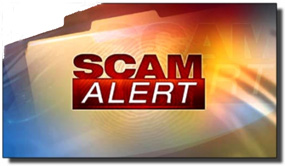 As you probably know, scams of various types are common on Facebook. Some scams run their course and are never seen again, but most just seem to pop up every now and then.
One of those "pop up scams" is a lottery scam targeting people who enjoy playing the Powerball and Mega Millions multi-state lotteries. 
In one variation of the scam the scammer places a post in your newsfeed telling you that you have won a million dollars, and all you have to do to collect it is to pay a processing fee and/or give them your bank account info (so they can deposit your winnings – yeah, right!).
Another variation of the lottery scam requires you to purchase a "ticket" online. Of course there is no "ticket" since both Powerball and Mega Millions require anyone who wishes to play to visit a physical store that sells lottery tickets and purchase a paper ticket in person.
In a slightly more benign version of the scam you are asked to simply "Like" the scammer's fake lottery Facebook page in order to play. They won't ask you for any money or financial information, but after their Facebook page has attracted tons of Likes they'll either use that page to perpetrate other scams or sell the page to another scammer.
Bottom line: If you want to play a lottery and have any real chance of winning, you'll need to visit a local retailer and buy a physical lottery ticket. To the best of my knowledge you cannot purchase legitimate lottery tickets online in the United States at the present time.