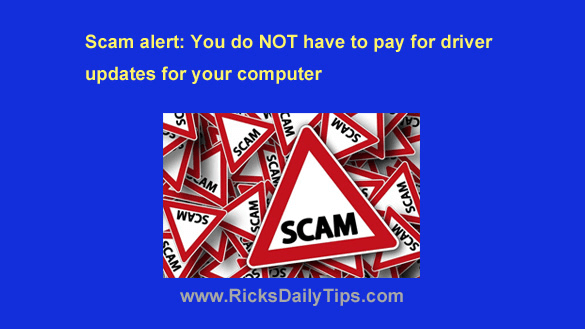 Several people have messaged me recently asking about "driver update notices" that are popping up on their computers.
These messages are usually presented in pop-up windows or messages in the notifications area at the bottom-right corner of the screen.
Regardless of how these messages show up, many of them are outright scams.
These notices typically say your computer's hardware drivers are out of date, which could lead to serious problems unless they are updated.
The scammer then asks you to pay a fee in order to either download and install the updated driver(s) from their website or install and/or activate a "driver update" program that will update the driver(s) for you.
While it's true that on rare occasions a hardware driver might possibly need to be updated to keep your system operating as it should, those rare necessary updates are completely free.
Truth be told, there's a great chance that your machine will keep working just fine throughout its useful life without you ever having to install a single driver update.
What's more, driver updates can occasionally go bad and cause problems with the system
And even worse, the "drivers" installed by some "driver update" programs are actually malware that can give the scammer a back door into your system.
Therefore, I don't  recommend installing driver updates unless you have a real and specific need to do so.
I do recommend that you ignore any and all offers to install a driver or a driver update program from a third-party website.
As usually happens when I post about this topic, I'll soon start receiving a bunch of emails from folks telling me they've been using "Driver Update Program X" for years with no issues. And truth be told, there are a few legitimate driver update programs out there.
However, I don't recommend any of them, for two reasons:
1 – You don't need them.
2 – If you choose the wrong one you'll end up with malware on your PC and a scammer who has access to your files and sensitive information.
So how should you handle driver updates? Well, like I said above, you don't have to deal with them at all unless a need to do so arises.
If your computer does start having driver-related issues with a particular piece of hardware (the video adapter or network adapter for instance), you can simply check the support section of the manufacturer's website to make sure you have the latest driver for that piece of hardware installed.
And now, one more reminder…
While there are a few legitimate programs you can install that will monitor your machine's hardware drivers and alert you when an update is available for one or more of them, the vast majority of those programs are nothing more than scams.
The truth is you don't need those programs.
If your machine is running Windows 10 or Windows 11 you'll probably never even need to be concerned about driver updates because Microsoft has configured those versions of Windows to either automatically install driver updates as needed or let you know when they are available via the Windows Update process.
Bottom line: You should never have to pay to update your computer's hardware drivers or install a program to do it for you. If a new version of a driver exists, you can simply download it from the manufacturer's website and install it for free – or even better, Windows will do it for you.
Bonus Tip: Click here to learn why neither Microsoft nor Apple will call to tell you your computer has a virus.
---