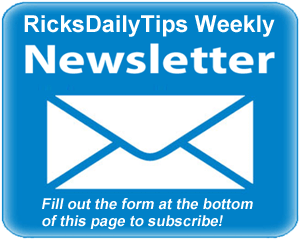 Hello again everyone. I hope you all had a great week!
Modern Universal Serial Bus (USB) ports have replaced a number of older data transmission technologies over the years due to its increased speed and dead-simple ease of use.
Nowadays we can buy a wide variety of USB devices such as USB printers, external USB hard drives and USB flash drives that make our day-to-day lives so much easier than they were just a few years ago.
There are currently two generations of USB technology in common use: USB 2.0 and USB 3.0.
USB 3.0 offers a couple of important advantages over the older (yet still widespread) USB 2.0: 
1 – USB 3.0 is capable of transferring data at 10 times the speed of USB 2.0, and you'll really notice that difference while using a USB 3.0 external hard drive, SSD or flash drive.
2 – A USB 3.0 port can supply almost twice as much power to attached devices as a USB 2.0 port can.
That means you can attach most any external USB hard drive to a USB 3.0 port without having to connect a supplemental USB cable for added power. It will also charge the batteries in your mobile devices a lot faster.
As you probably know, virtually all new home computers now include high-speed (and high power) USB 3.0 ports.
But did you know that you can easily upgrade most older PCs to USB 3.0 for about the cost of a pizza? Well, it's true, and this is one upgrade that I strongly recommend.
And while you're at it, you can even add USB 3.0 ports to the front of your computer for about $12-$15 more if you want to.
As you can see, you can easily take advantage of the benefits of USB 3.0 even if you have an older PC that doesn't currently support it. And it won't cost you an arm and a leg to make it happen!
Well, that's it for this week. If you have a tech question that you would like for me to answer, click here and send it in!
Special note: As a subscriber to the RicksDailyTips Tech Newsletter you are automatically entered to win one of my monthly tech gear giveaways. Monthly winners are announced in the first newsletter of the following month.
December's winner will receive a handy Corsair Flash Voyager Slider 128GB USB 3.0 Flash Drive.
Not a subscriber to my newsletter? Fill out the short subscription form below to receive my weekly newsletter by email and be automatically entered for my monthly Tech Gear Giveaways!
I hope you found this edition of the newsletter useful and interesting. If so, I hope you'll consider passing it on to any of your friends and associates who might enjoy reading it as well.
Thanks a bunch,
Rick Rouse
Website: www.RicksDailyTips.com
Follow me on Facebook: www.Facebook.com/RicksDailyTips
Follow me on Twitter: www.Twitter.com/RicksDailyTips