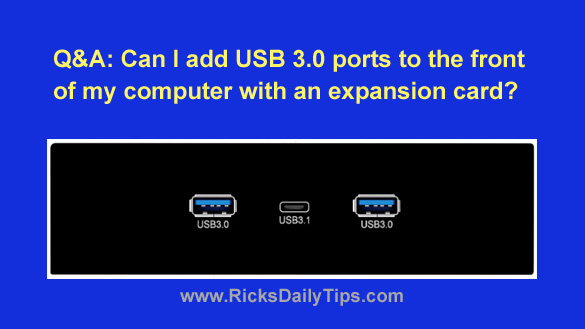 Note: The links in this post are affiliate links.
Question from Eric G.:  I read your post about adding USB 3.0 ports to a PC that only has USB 2.0 on it. I'd like to do that but I have a question first.
My Gateway DX4860 desktop computer has two USB 2.0 ports on the front of the case. If I install a USB 3.0 expansion card will it add USB 3.0 to the front of my computer too or just on the back?
Rick's answer:  Eric, you can add USB 3.0 ports to both the front and back of your computer quite easily, but not just by installing a USB 3.0 expansion card. You'll also need to install a very inexpensive front mounted USB 3.0 hub along with it.
Going this route will cost you a just little more, but I believe it will definitely be worth it if you really want to have USB 3.0 available right on the front of your computer's case.
Here's all you need to do:
1 – Purchase this Inateck 5 port USB 3.0 expansion card and install it by plugging it into an open PCI-E slot inside your PC's case. Be sure to also connect the expansion card to your PC's power supply according to the card's installation instructions.
2 – Purchase this 5.25 inch USB 3.0 hub and install it inside an open 5.25 inch drive bay at the front of your computer's case. It will slide in and mount just like a 5.25 inch disc drive.
3 – Using the included cable, connect the front mounted USB 3.0 hub to the 20 pin connector on the Inateck USB 3.0 expansion card.
4 – Power up the PC and install the latest driver for the expansion card from the Inateck website (see the instructions) and you'll be in business.
That's all there is to it Eric. Installing the items mentioned above will add five new USB 3.0 ports to the back of your computer plus two new USB 3.0 ports on the front of it. And in case you're wondering, you'll still be able to use all of your existing USB 2.0 ports as well!
Update from Eric:  This is perfect Rick! Thanks!!!!!
Bonus tip #1: This post explains why you need to own a USB to SATA adapter!
Bonus tip #2: Want to make sure you never miss one of my tips? Click here to join my Rick's Tech Tips Facebook Group!
---
Do you have a tech question of your own for Rick? Click here and send it in!
If you found this post useful, would you mind helping me out by sharing it? Just click one of the handy social media sharing buttons below.