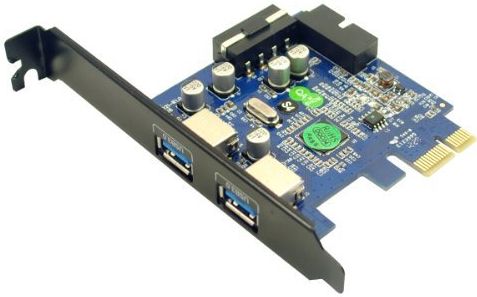 A while back I wrote a post explaining why it makes sense to upgrade your PC to USB 3.0 along with instructions for doing it. In a nutshell, you simply purchase and install an inexpensive USB 3.0 upgrade card.
Now's a great time to do it because you can pick up an awesome Anker Uspeed USB 3.0 PCI-E Express Card (#ad) that will add 2 super fast USB 3.0 ports to your Desktop PC for about the cost of a pizza! 
Adding USB 3.0 ports to your computer is one of the best upgrades you can make, especially considering the ridiculously low cost involved.
Installing one of these little gems in your PC will turn your external USB 3.0 hard drives and thumb drives into speed demons while also letting you charge your phone and tablet a LOT faster.
Isn't this a better deal than ordering a pizza? (And I happen to be a pizza lover!)
Click here (#ad) to read more about the Anker Uspeed 2 Port USB 3.0 PCI-E Express Card at Amazon.com, including over 1,000 overwhelmingly positive user reviews.
Bonus tip: This post explains how to convert a spare internal hard drive into an external USB 3.0 hard drive.
---
Like this tip? If so, I invite you to share it on social media. Just click one the handy buttons below.