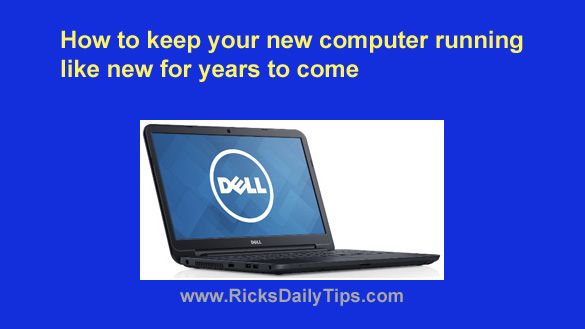 Note: The links in this post are affiliate links.
Did you recently purchase a new computer because your old one had become sluggish and unstable?
If you plan to use your new computer primarily for offline tasks like editing photos or doing office-type tasks, there's a simple way to keep it running like new for years…
Don't sell or recycle your old computer. Instead, use it for most of your Internet activities and use your new computer just for all of your primary non-Internet related tasks.
I know, you're probably thinking you wouldn't have needed a new computer in the first place if the old one hadn't been running so slow!
Well, I'm going to tell you a secret…
It's a pretty safe bet that your computer didn't slow down over time because of a hardware issue. Windows PCs tend to become sluggish and unstable due to software issues and malware infections, not hardware problems.
Both the Windows Registry and the hard drive in general become cluttered up over time as you add and remove programs and save and delete files.
System files and hardware drivers get corrupted and malware gets downloaded.
All of those issues together eventually cause your system to start running slow and just generally act weird.
Just because your software installation becomes a bottleneck doesn't mean the computer itself is no longer useful. You can easily eliminate that bottleneck and put your old PC to good use as a dedicated Internet machine!
Using your old computer for all of your Internet activities (Facebook, email, web surfing, etc.) will help keep your new PC from getting cluttered with tons of temporary Internet files and also help keep it malware-free.
As you probably know, most malware is distributed over the Internet these days, so using a different PC for your Internet activities will help ensure that your new computer remains pristine and virus-free.
Luckily, it's very easy to turn an old sluggish PC into a fast Internet-only machine in one of two ways (be sure to copy any files you want to keep onto other media first!):
1- Reset your Windows installation using the Windows Reset tool
If your computer is running Windows 10 or Windows 11 you can easily reset your Windows installation and wipe out all the junk and start fresh with a completely "clean" copy of Windows.
If your PC is running Windows 10 just follow the steps in this post to reset your PC's Windows installation.  Be sure to select the option to wipe out your files AFTER you've copied them onto some type of backup media!
If it's running Windows 11 follow the instructions on this page.
2 – Replace Windows with Linux
If your PC is running an older (and soon to be abandoned) version of Windows you can wipe out the Windows installation altogether and install Linux in its place for free.
Why would you want to do that? Because most any old computer is virtually guaranteed to run faster under an suitable version of Linux than it ever did while running Windows.
Even better, Linux-based PCs are much less likely to be become infected with viruses than Windows machines.
What's more, if your computer ever does become infected you can simply re-install Linux again and be back up and running in no time!
Bottom line: You can keep your new computer running like new a lot longer by simply "outsourcing" all of your Internet activities to your "cleaned up" older PC.
It'll cost you absolutely nothing to give it a try, so why not go for it?
And by the way, if your dedicated Internet computer ever gets bogged down like it was before, you can always start fresh again using one the of the options listed above.
And now, one final thought: If you find that the old PC still runs a little too slow for your taste after resetting Windows or installing Linux, spending a few bucks to upgrade its RAM or replace its hard drive with an SSD can make a huge difference!
Bonus tip: The single most effective thing you can do to keep any Windows PC running smoothly is to keep it free of viruses and malware. This post explains how.
---