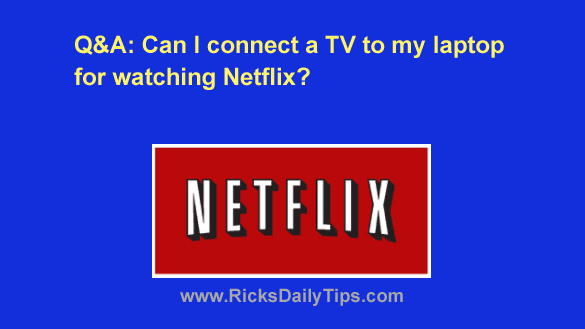 Question from Chad:  My laptop has a 13 inch screen, and I'd really like to have a much bigger screen to use when I'm watching Netflix.
I've been thinking about buying a 27 inch computer monitor to hook up to the laptop through the HDMI port, but I think I might have just found a better (well, at least a much cheaper) option.
I just found out that my cousin has a practically new 50 inch flat panel TV for sale.
He said he'd let me have it for $60 because he doesn't need it and it's just in his way. It's only a few months old and I'm pretty sure it's never been taken out of the box.
I know this TV has an HDMI input connector. Do you think it'll work with my laptop? I'd like to know for sure before I buy it.
Thanks in advance for your help!
Rick's answer:   [Read more…]